Vodnjan is a sleepy Istrian village that contains one of the region's most macabre sights. There's not much to see in the tiny town. Unmarked by tourism, it retains an authentic Istrian flavor with nice architectural details. Most people go for the unique Baroque 18th-century Church of St. Blaise. Pleasant enough on the outside, it's the interior that draws visitors.
Mummies
Behind the main altar of the Church of St. Blaise and in a separate room lie the desiccated remains of six saints that were, in effect, mummified. The clothed bodies of St. Leon Bembo, St. Ivan John Olini, and St. Nicoloza Bursa, as well as assorted parts of three other saints, lie enclosed in glass. For unknown reasons, the bodies and body parts failed to decompose. The skin and nails darkened and dried, making the corpses look curiously wooden. In addition to the "mummies", the church reliquary contains 380 relics enclosed in glass, including the undecayed tongue of St. Mary of Egypt.
While you absorb the creepy ambiance, a CD explains who the saints were, how they lived and how they died. Odd.
Among the less grisly exhibits, notice the 14th-century polyptych painted by Paolo Veneziano that depicts scenes from the life and death of St. Bembo.
Getting to Vodnjan
Vodnjan is seven miles or 10 kilometers north of Pula to which it is linked by hourly buses.
Accommodation in Vodnjan
Hotel Villa Letan is a wonderful four-star hotel in Vodnjan. See more Vodnjan accommodation.
Tourist Information in Vodnjan
The Vodnjan tourist office (tel 052 511 700) is in the centre of town at Narodni trg 3.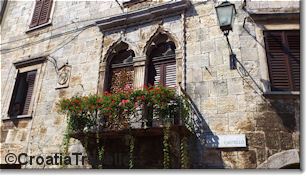 Reminders of Venetian style

View Croatia in a larger map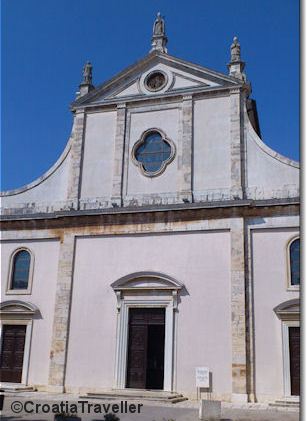 Church of St Blaise