There are two ways to get around Istria and both involve roads. You can drive around Istria or you can take buses. Although there is limited train service TO Istria, there are no trains around Istria. Similarly for ferries: you can take ferries TO Istria but no ferries around Istria.
(See more about getting TO Istria)
Driving in Istria
The Istrian motorway system is characterised by two main branches that form a "Y" shape. Known as the Istrian Y, the eastern wing of the motorway connects Pula with Matuli (near Rijeka), passing through Kanfanar and the western wing connects Pula with the Slovenian border running near the west coast. (See a road map of Istria).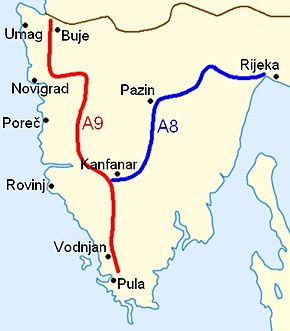 Most of the motorway is two-lane although there is a four-lane portion that runs from Kanfanar to Rogovici, near Pazin. Eventually the entire Istrian Y will be four-lane as construction continues. Only on the four-lane portions of the motorway are tolls collected. To keep track of the progress of the motorway, see Bina Istria.
Rent a car in Istria?
Although it is fastest to travel on the motorway, other more scenic roads run along the eastern and western coasts. Smaller roads connect the major towns with smaller towns and villages. Roads are in excellent condition and traffic is rarely a problem.
Buses in Istria
The Istrian bus system is highly efficient in connecting coastal towns and connecting major interior towns to the coast but is less efficient in reaching villages. To explore out of the way villages, you'll need to rent a car. Although there are a handful of bus companies based in Istria, check out Bookaway which has all arrivals and departures for buses throughout Istria plus online booking. In the height of the summer season it's wise to buy your ticket in advance if possible.