In the northern
Kvarner
region,
Cres Island
is separated from
Losinj Island
by a narrow canal but the two islands are very different. Cres is much
wilder and more deserted
than Losinj and marked by high cliffs on the eastern coast. The island of
Cres
is 68km long and is most populous around
Cres Town
on the western coast.     
Remnants of Venetian rule are particularly apparent in charming Cres Town. See more.
Things to see and do
Other sights on Cres include Osor which was a commercial centre in the Middle Ages and now is notable for its restored buildings, outdoor sculpture and Musical Evenings in July and August.
Try to stop at tiny Valun Beach. Steep hills shelter it from the wind and the deeply indented cove always has calm waters. The beach extends from the hamlet of Valun at the southern end of the gulf of Cres. There are no hotels, just a few private room rentals in this sleepy hamlet but there are a few restaurants right on the tiny harbour where you can dine on fresh fish.
     Griffon Vultures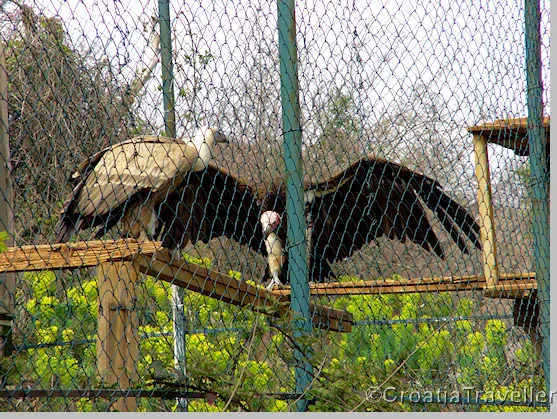 From the ferry stop in Porozina, drive to the Eko-Center, "Caput Insulae," in Beli, which provides an excellent introduction to the island's remarkable bird and plant life. The center functions as a reserve for Eurasian griffon vultures, an indigenous bird with a wing span of more than nine feet that nests in the island's high coastal cliffs. There can be up to a dozen vultures in residence, which weigh up to 22 pounds! You might see one of the griffons in flight if you follow the eco-trails surrounding the center. An illustrated booklet published and distributed by the center helps you to identify the trees, plants, and bushes on the trails--wild asparagus, black mulberry, and wulfen's spurge. As you stroll along the paths, a diverse collection of bird life, such as golden eagles, snake eagles, and honey buzzards, soar above the surrounding woods.
Set up in 1993 by Goran Susic, a scientist from Zagreb University, the centre is a delightful, educational and inspiring venture dedicated to protecting the majestic Griffon vulture.
"I was spending my life studying the Griffon vulture and then I thought there's no sense to it if they become extinct!" said Susic. So he chucked the world of academia, bought some land and a building on Cres Island and set up a rescue center and hospice for this threatened species.
The center includes much more than the vulture-stars. There's a butterfly garden, botanical garden, eco-trails, labyrinths and soon a multimedia center. There are peaceful corners for rest and reflection, special games for kids and plenty of exhibits telling you all you need to know about vultures.  Yet, it's not just about sensitizing visitors to the birds but also to the habitat that sustains them. It's easy to spend a day there, especially when the coast is baking in the summer heat. The Eko-centar is always several degrees cooler.
Even more interesting is the Caput Insulae Volunteer Program. Volunteers staff and maintain the center, help in vulture rescues and accompany the visitors. They are well-lodged, eat local food and the international atmosphere seems most convivial.
Tourist Information in Cres
The Cres tourist office (tel 051-571 133) is in the centre of Cres Town at Cons 11.