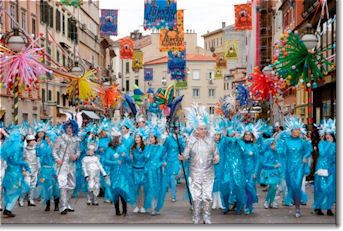 Carnival in Rijeka

In addition to the National Holidays, there are some very special events that can greatly enhance your trip to Croatia. No matter what time of year, you'll always find something going on. Here are Croatia's best festivals and events with links to more information:
February
Carnival
Where: best in Rijeka
What: parades, costumes, music
March
International Documentary Film Festival Where: Zagreb
What: Film
April
Biennial of Contemporary Music
Where: Zagreb
What: Prestigious music festival, but only in odd-numbered years.
Croatia Boat Show
Where: Split
What: International, nautical
Queer Zagreb
Where: Zagreb
What: gay pride parade
May
Dubrovnik International Film Festival
Where: Dubrovnik
What: new film festival
June
International Children's Festival
Where: Sibenik
What: children's entertainment
July
Dubrovnik Summer Festival
Where: Dubrovnik
What: classical music, theatre
August
Full Moon Festival
Where: Zadar
What:traditional folklore, music, food along the quays
See more events in August
September
Varazdin Baroque Evenings
Where: Varazdin
What: baroque music concerts

See more events in September
October
Istrian Truffle Days
Where: In and around Motovun
What: gastronomic fair lasting throughout the month
November
Festival of Animated Film
Where: Zagreb
What:feature films in odd-numbered years; short films in even-numbered years
Events Apps
Croatia.hr
Developer: Five Minutes Ltd for the Croatian Tourist Board
Platform: iOS Croatia.hr
              Android Croatia.hr
              Symbian Croatia.hr
Price: Free
Review: This attractive and useful app has up-to-date information on local events and festivals as well as other destination information.