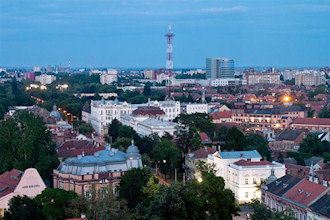 The classic
Hotel Waldinger
Osijek is a world away from Croatia's coast and islands. If Osijek seems like a different country, that's because for many centuries it was. While Dalmatia belonged to Italy, Osijek, along with the rest of Slavonia, was part of the Hungarian division of the Austro-Hungarian empire (see more on Croatia's history).  The Hungarian influence is delightfully evident in the region's spicy cuisine while the majestic baroque buildings that comprise Osijek's town centre are testament to Viennese style.
Unfortunately, Osijek was at the epicentre of the 'Homeland War' that tore up Croatia in the early 1990s. Although the graceful mansions remain standing, their facades are often pockmarked with wounds from the vicious shelling the city endured
Yet it's easy to forget the turmoil of war when you stroll along the banks of the Drava river that flows at the edge of town and separates Osijek from Serbia. Many buildings have been restored, cafe life is ever-vibrant and the city offers some of the best dining in Croatia.  Osijek also makes a great base to explore the birdy Kopacki Rit Nature Park.
What to See in Osijek
The main sightseeing highlight in Osijek is Tvrda, the oldest part of town. In the Middle Ages it was an autonomous town but later on the Austrians built walls and barracks and transformed it into a fortress which lasted until 1923. Even though some walls and gates disappeared, any bastions remain and Tvrda retains the harmonious baroque architectural plan its designers intended. In addition to admiring the squares, churches and buildings, there's an interesting Museum of Slavonia, a Franciscan Monastery and the beloved Church of St Anthony erected on the remains of a Turkish minaret.
Also worth visiting is Gornji Grad, the Upper Town, which is notable for the Parish Church of St Peter and Paul. It doesn't look like a simple parish church! Its 90m-high bell tower looms over the town centre and is the second highest in Croatia. Built between 1894 and1898 it reflects the best of Viennese architecture with 4O stained-glass windows and stonework from the Viennese sculptor Eduard Hauser.
Accommodation in Osijek
Private accommodation is scarce in Osijek but there are some excellent hotel options. Maybe it comes from being off-the-beaten-track but Osijek hotels try harder, at least judging from the guest reviews.
Four-star hotels in Osijek
Hotel Waldinger
Hotel Osijek
Vienna Apartments
Three-star hotels in Osijek
Pansion Strossmayer
Rooms Lisnic
Apatmani Postic
Hotel Millennium
Guesthouse Maksimilan
Hotel Silver
Hotel Ariston
Two-star hotels in Osijek
Hotel Mursa
Getting to Osijek
Osijek is at the crossroads of eastern Europe so there's no shortage of connections east and west. There are international buses from Germany, Vienna, Zurich and Bosnia as well as local buses to take you to Zagreb (4 hours), Dubrovnik (13 hours), Split (11 hours) and other destinations. There are also trains to Zagreb and other destinations. Osijek Airport is 20km east of Osijek. There's a bus from central Osijek (Cinema Urania) to the airport which costs €4. Croatia Airlines runs direct flights from Zagreb to Osijek five times weekly.
Tourist Information in Osijek
The Osijek tourist office is at Zupanijska 2.