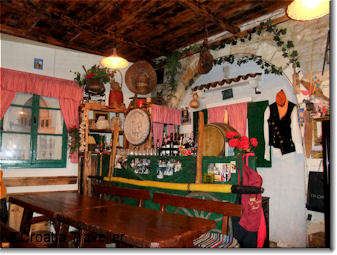 Typical Konoba

Croatian restaurants generally offer excellent value for money. It's hard to find a truly bad meal in Croatia as the locals are very particular about their food. Plus, you can always feast on a hearty pasta or risotto appetizer for no more than 6OKn even in the finest restaurants.
Breakfast
In hotels, a buffet breakfast is included but usually not in private rooms or apartments. You can always pick up a pastry to eat in your room but breakfast is not served in restaurants or cafes. It's just not part of the Croatian tradition.
Restaurants
Restaurants (restauracija or restoran) are usually open long hours --from noon to midnight--and accustomed to serving at all hours of the day. A gostionica or konoba is usually a smaller, family-run restaurant that may offer a more intimate experience with family-made wine, family-caught fish, family-grown vegetables and family-smoked meat.
A pivnica is an informal pub that usually doesn't serve food and a kavana is a cafe that only serves drinks, cakes and ice cream. Satisfy your sweet tooth in a slasticarna which offers cake, strudel and ice cream to take away.
Ordering food
Be aware that fish is priced by the kilogram (from about €46 a kg). The average portion is 250g. The fish will be brought out for your inspection before it's cooked, but not seafood.
Service is included in Croatian restaurants but some restaurants tack on a cover charge which is supposed to be indicated on the menu.
Self Catering
Markets are stocked with all the fruit and vegetables you would expect. The selection of fish can be dreary during the summer season as the best tend to be sold to restaurants!
One way to keep costs down is to feast on sandwiches. Any supermarket with a deli counter or small grocery store will cheerfully make you a sandwich of cold cuts or cheese and you only pay for the price of the ingredients.
Dress
Dining is fairly casual in Croatia but Croatians tend to be neat dressers. Flip-flops, T-shirts and shorts are fine during the day on the coast but at night men should wear trousers and shoes. A jacket and tie would be expected at only the most upscale establishments.
Tipping
A service charge is automatically included on your bill but it's customary to "round up" the bill by leaving extra change.