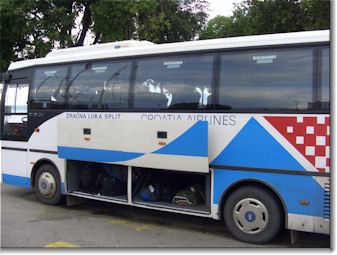 Your Airport Transfer Bus
OK, now you've booked your cheap flight to Croatia. Congratulations! But your travel budget also needs to include the cost of the transfer from the airport to your hotel. Whoops. It can cost almost as much as your international flight! Here are some tips:
In Zagreb, Split, Dubrovnik, Zadar and Rijeka, there are regular services from the airport to the town centres. The service is designed to transport Croatia Airlines passengers but anyone can use it. You can spot the buses because they say "Croatia Airlines" on them. The cost is minimal (around €4.60) but the schedule runs in conjunction with Croatia Airlines flights. If you are not arriving on a Croatia Airlines flight you may have to wait a while for a bus to town. Before you leave you should check the schedule of Croatia Airlines flights on your arrival day to get an idea of how long you may have to wait.
Taxis
Of course you can always take a taxi. Croatia's taxi drivers are relatively honest but also relatively expensive. You will pay about €3.31/km plus extra charges for baggage, Sundays, nighttime and a €5.30/hr waiting time charge. It can add up.