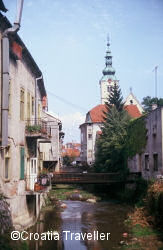 Samobor stream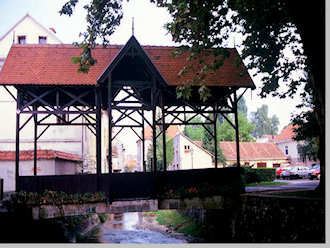 When Zagreb gets too hectic, its stressed-out denizens head to Samobor, in Zagrebacka (Zagreb) County for a little R & R. With covered bridges, a trickling brook stocked with trout and two-storey red-roofed houses, Samobor looks almost unreal. Just walking around soothes the spirit. Only 20km from Zagreb, it seems to be worlds away from Croatia's busy capital and has a beautifully preserved medieval ambience. Samobor is also the place to head for Carnival; it's famous throughout Croatia.
One of the best things to do in Samobor is sample the fine dining. You simply must try Rudorska greblica, a special cheesecake prepared according to an age-old recipe. Another sweet treat is Samoborske kremsnite, cake of custard and flaky pastry. Traditional meals are also scrumptious in Samobor; Try Pri Staroj Vuri near the main square which also sometimes hosts poetry readings. Try Samobor's famous aperitif, Bermet before your meal.
With all those calories, you'll want to expend some energy. No problem. Samobor sits in the middle of the Samoborsko Gorje, a mountainous region that offers a wealth of hikes through rolling hills, lush pastures and dense forests.
Accommodation in Samobor
Accommodation in Samobor is rustic but pleasant. Private accommodation is limited; a great option is Guesthouse Pavlin. The hotels offer good value for money, especially compared to Zagreb hotels. For three-star hotels try the Hotel Lavica on the outskirts and the venerable Hotel Livadic in the town centre. And, the budget-minded will deeply appreciate the excellent Samobor Hostel.
Getting to Samobor
It's easy to get to Samobor. Zagreb local buses leave from the Zagreb bus station every half hour or so. See more on getting around Zagreb.
Tourist Information in Samobor
The Samobor Tourist Office (tel 01-336 0044) is in the town centre at Tomislava 5.
Related Pages