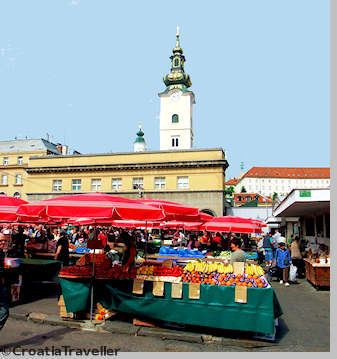 Dolac Market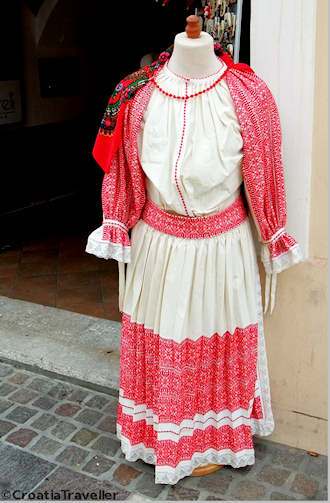 Store on Tkalciceva
Shopping in Zagreb is easy to navigate. Walk west on Ilica, Zagreb's main street (see a map) and you'll pass shop after shop. Veer onto the side streets for even more choices. Nearly all European chains are present and accounted for and there are also some smaller and more interesting boutiques. Hours are long, generally running from 8 or 9am to 7 or 7.30pm without a lunch break from Monday to Saturday. Stores accept credit cards but have some euros handy for the markets.
Antiques
Britanski trg
Sunday from 9am to 2pm this square just west of the center displays a grab-bag of antiques and collectables.
Food
Dolac
Zagreb's most famous food market is open daily from 7am to around 1pm.
Britanski trg
Slightly smaller and more expensive than Dolac, it's still convenient if you're in the neighborhood.
Jabuke & Ruze
At Pod zidom 4, this specialty shop is a paradise for foodies with an incredible range of cheeses, olive oils, sausages, wine and tinned goodies.
Flea Market
Hrelic Flea Market
Sajmišna cesta
Novi Zagreb
It's not just that you can buy anything from potato peelers to used tires, this vast market is a fascinating window into Zagreb life. Open Wednesday and Sunday mornings only.
Made in Croatia
Bornstein
In this convenient Kaptol location is this wine shop, known for its discerning taste in selecting the finest Croatian wines.
Croata
Known for inventing the necktie (thanks!), Croatians of means head here to buy the most elegant and unusual ties. There are a number of locations around Zagreb but the most attractive is in the domed Oktogon at Ilica 5.
Cerovecki
A rainy day in Zagreb is a good excuse to head here and indulge in a beautiful, handmade umbrella.
Kobali
These handmade ladies hats at Ilica 5 are elegant, flashy, whimsical, eccentric--all at once. Facebook page: www.facebook.com/Hats-by-Kobali-105252149516998/
Kras
Sweets to the sweet. Croatia's largest confectioner presents their delectable wares here, right on Trg Jelacica.
Stolnick
Zagreb designers are not yet world renowned but their time will come. Try this boutique at Vlaska 58 for silky, classy women's clothes.
I-GLE
Strange name but unique and interesting clothes from two young designers.
Croatian designed furniture, clothing, souvenirs, wine, food and other knick knacks is on offer here. Over one hundred products from local designers ranging from furniture, lighting, clothing, footwear, toys, food, wine, jewelery, tableware and decorative objects showcases the best of contemporary Croatian design. It's an essential stop on a tour of hipster Zagreb.
Souvenirs
Archaeological Museum Gift Shop
For unique, handcrafted souvenirs, this shop is hard to beat.
Take Me Home
The name says it all. It's impossible not to be charmed by this playful shop at Tomićeva 4 in the Upper Town that offers toys, soaps, accessories, jewelry and more.
Shopping Centers
Branimir
Just across from the train station, it's an entertainment center with a movie theatre, cafes and restaurants as well as lots of shops.
Centar Kaptol
From shoes to suits, handbags and mobile phone accessories, this very modern shopping center has it all.
Importanne
This underground shopping mall is right underneath the train station so you can spend some money while waiting for your train. The stores are on the less-expensive side.
Nama
This was Zagreb's original department store, conveniently located just west of Trg Jelacica. It's worth a visit if only for the Belle Epoque ceiling.