The Zagreb train station (Glavni Kododvor) is a throwback to the days when Zagreb was a stop on the Orient Express. There's a grandeur to the train station--especially on the outside. The building is a real classic, rising proudly 2km south of the city's historic core.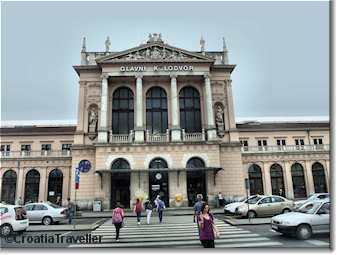 When you leave the station a series of shady parks extends to the centre. Known as the Green Horseshoe, it's a pleasant and relaxed walk.
The interior of the station is cavernous with endlessly high ceilings and enormous halls but the effect is slightly gloomy after the majestic facade. Note that there are stairs to get to the tracks. There may be escalators in the future but not yet.
Buying Train Tickets
There are two separate sets of ticket counters in the train station: the international section and the local section. At the international counters, the staff speak English. At the ticket counters for domestic trains, you take your chances.
You can pay for all tickets with cash or credit cards. You can also buy rail tickets online at Croatia Railways.
See more on:
Information
The tourist information desk is open long hours (6am-10pm daily) and the staff speaks English. There are flyers from local hostels and budget hotels and the staff will help you book accommodation. The information desk is not the place to get train information.
Exchanging Money
There are two ATMs in the train station and a currency exchange counter in the international section that has reasonable, if not outstanding, currency exchange rates. It's wise to get your cash before hitting town.
Food
Dining options are extremely limited at the train station but you can pick up soft drinks, sandwiches, bread, pastries and juice. There is no restaurant.
Getting to/from the Train Station
The train station is a major tram stop (see a Zagreb tram map). For visitors, the most useful tram is the No 6 that goes to the town centre and the bus station. There are also taxis outside the train station; a ride into town will cost about €4
Hotels Near the Train Station
The following hotels are within walking distance of the train station.
See more accommodation near Zagreb train station or use this handy search box:
Phones
There are public phones in the train station and you can buy a phone card at the tisak (newspaper kiosk). There is no free WiFi.
Left Luggage
There are self-service lockers to store luggage. The price is €2 per hour and it's open 24/7.
Stores
There's not much within the train station but underneath it you'll find a major shopping mall. Not only can you find the latest Made-in-Italy Croatian fashion but there's also a supermarket if you need to pick up some eats.
Last updated January 2, 2023