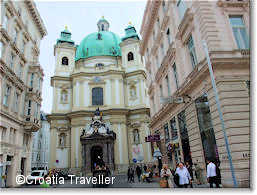 Daily buses from Vienna
Find Car Rentals
International Buses to Zagreb
Zagreb is well-connected to major European destinations with the most frequent services running from Germany, Italy, Austria, Slovenia and Hungary.
There are: 
five daily buses (two hours) from Ljubljana 
one daily bus (six hours) from Venice          
one daily bus (four hours) from Trieste       
five daily buses (five hours) from Vienna     
two daily buses (five hours) from Budapest 
six daily buses (16 hours) from Berlin         
five daily buses (seven hours) from Munich 
eight daily buses (14 hours) from Prague    
four buses (8-9 hours) from Sarajevo         
one daily bus (31 hours) from London        
Book buses online with Flixbus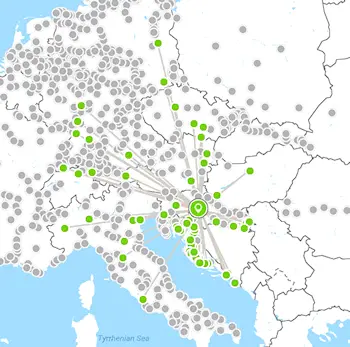 In addition, Eurolines offers connections to most other European countries, usually with a change in Germany.
Domestic Buses to Zagreb
As the nation's capital there are direct bus connections from Zagreb to nearly everywhere in the country. As elsewhere in Croatia, bus routes are handled by several different private operators with varied prices and routes. See more about Croatia bus travel.
You can check schedules, companies and prices at the Autobusni Kolodvor Zagreb (Zagreb bus station) and of course buy tickets online.
Note that taking a bus from Zagreb to Dubrovnik is a long trip, running from 8 1/2 to 9 1/2 hours. There is a nightly bus to Korcula Island but for other islands you'll need to take a bus to the nearest coastal town which is usually Split in the south and Rijeka in the north and then take a ferry from there.
Buying your Bus Ticket
As seats are assigned, it's wise to get a ticket early to have a choice of seats.
At the Bus Station
The bus station has a series of counters; international tickets are sold at windows 11 and 12. You can pay by cash or credit card and you can reserve as far in advance as you like or at the last possible minute. Click here for opening hours and more information about the Zagreb Bus Station.
Online
The most convenient approach to buying tickets online if you're out of the country is to use an agency such as Bookaway where you can print out your tickets, go directly to the bus station and board.
You can also reserve your bus ticket online at the Zagreb Bus Station website. However, you must pick up the tickets at the bus station at least 30 minutes before departure and there is a small surcharge. The ticket must be purchased at least six hours before departure and tickets are limited to four per order.
Express Service
In a hurry? You can also:
buy your ticket at the new drive-in ticket counter of the Zagreb bus station in the parking lot. There's a minimal charge and you get 30 minutes free parking while you're waiting.

reserve and have your tickets delivered to your Zagreb hotel. Call 060 313 333 before 3pm and they'll be delivered the same day.
Zagreb's bus station is a little out of the town centre (about 2km) but there are plenty of trams to town from the tram stop just in front of the station. More.
Last updated December 13, 2022