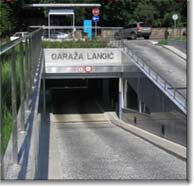 You do not need a car to get around Zagreb as the public transport system is excellent. If you do have a car, remember that the core of the town centre is pedestrian only. As in many European cities, there are a welter of one-way streets that can make navigation difficult. Also, cars share the same roads as trams which gives you one other thing to watch out for.
Car Rental
I find that Autoeurope or Economy Car Rentals usually offer the best deals on car rentals in Zagreb. But there are plenty of other car rental companies with offices in central Zagreb or at the airport.
Parking
There are 24,174 parking places in Zagreb but try and find a spot when you need it!
Zagreb has three parking zones. Parking in the red zone in the city centre costs 6 Kn an hour, in the yellow zone 3 Kn and in the green zone 1.5 Kn an hour. The daily rates are 100Kn in the red zone, 60Kn and 20Kn in the yellow and green zones respectively. Daily tickets can be purchased in the post office.
See a map of Zagreb parking zones.
You may pay for hourly parking either by inserting coins into the nearby parking meter and placing the ticket in the windshield or by texting your registration number to the number shown on the parking sign.
A new system allows users to pay for electronic parking tickets at a nearby tisak by presenting the registration number and the desired zone to the clerk.
Not only are fines steep for illegal parking but you risk getting towed.
Indoor Garages
There are a number of indoor garages and rates are reasonable. You will pay 4Kn/hour from 8am to 6pm; 1.50Kn/hour from 6pm to 8am and all day Sunday. The following indoor garages are open 24/7. (See a Zagreb street map)
Ilica 45, tel. 01 48-77-555
Importanne Centar, Starcevicev trg bb
Importanne Galeria, Iblerov trg bb, tel. 01 46-19-130
Kaptol centar, Nova Ves 11
Marticeva 69, tel. 01 46-50-808
Palmoticeva 25, tel. 01 48-16-901
Petrinjska 59, tel. 01 48-19-447
Fibus, Miramarska 24, tel. 01 61-08-256
Langic, Langov trg bb, tel. 01 48-29-888
Petrol Stations
Petrol stations are usually open from 6am to 8 or 10pm Monday to Saturday. Many are closed from 2pm Sunday if not all day. The following petrol stations are open 24/7:
| | |
| --- | --- |
| Dankovecka 2 | 01 2912 601 |
| Heinzelova bb | 01 2441 434 |
| Jagiceva bb | 01 3774 423 |
| Trg Josipa Langa 13 | 01 4828 591 |
| Zagrebacka avenija bb | 01 3020 054 |
| Miramarska bb | 01 6453 040 |
| Slavonska avenija 54 | 01 2404 694 |
| Jadranska bb | 01 6521 477 |
| Ljubljanska avenija bb | 01 3898 599 |
Related Pages
Zagreb Street Map
Getting Around Zagreb
Zagreb Public Transportation
Zagreb Travel Guide
Further Resources
Zagreb Parking (in Croatian)
Last Updated November 10, 2014
Recommended Tours
More from Croatia Traveller
Questions? Comments?
©CroatiaTraveller 2005-2018 All rights reserved