International Buses to Split  
From Basel, Switzerland there's a Friday bus (20 hours).
From Belgrade there are two nightly buses (12 hours).
From Vienna there are three daily buses (14 hours).
From Munich there are three daily buses (12 hours).
From Medugorje and Sarajevo (Bosnia-Hercegovina) there are four daily buses (eight hours).
From Mostar there are six daily buses (four hours).
From Trieste there's one afternoon bus (11 hours).
From Ljubljana there's one evening bus (nine hours).
From Prague there are three daily buses (20 hours).
International buses can be booked online at flixbus.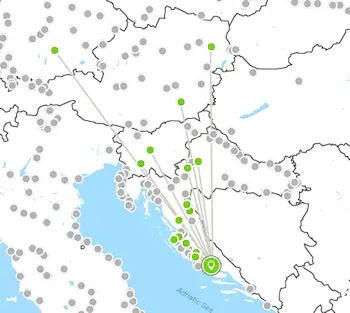 Domestic Buses to Split
There's hardly a city in Croatia that isn't connected to Split by bus. For example, there are:
12 daily buses to Dubrovnik (4 hours)
three daily buses to Pula ( 10 hours)  
seven daily buses to Rijeka (8 hours) 
four daily buses to Plitvice (4 hours)  
one daily bus to Korcula (5 hours)      <
11 daily buses to Zagreb (6 hours)      
buses half-hourly to Sibenik (1 1/2 hours) and Zadar ( 3 hours)
Book Split buses online!
Timetables and Booking
The most reliable source of information on buses to and from Split is at the Split bus station. The bus station is open long hours and there's a left-luggage office. All of the timetables, companies and prices are on the website but for online booking see bookaway.
[Need more information about travelling Croatia by bus?
Last updated July 26, 2022