Private accommodation is abundant in Split and can be incredibly elaborate. Like hotels, apartments and villas are rated according to a star system which means that a five-star apartment has amenities similar to a five-star hotel.
You can count on ladies meeting the buses, ferries and trains that stop in Split but be very careful about what they are offering. Some might propose that you share the apartment with them. Or, the apartment might be far out of town! (See tips on private accommodation in Croatia)
I strongly recommend that you reserve your room or apartment in advance, especially if you are coming from June to September. You'll have a greater choice. At many of the rooms and apartments below, the owner may be able to arrange transport from your arrival point to their house. It can't hurt to ask. Read general information about private accommodation in Croatia.
To really spare your budget, try a cheap hotel or hostel in Split.
Where to stay? Click this map to look at Split neighbourhoods: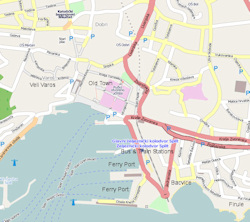 Click to see Split neighborhoods
Private accommodation in Split

Recommended

Diocletian's Palace

In the Town Centre

Near the Town Centre

Near the Beach

 


Diocletian's Palace

Outside the Palace

Near the port

Marjan Hill

 

Beaches