International Ferries to Split
Split's only international ferry connections are to Ancona. Ancona ferries run all year and are highly reliable. Naturally, there are extra Ancona ferries in summer to handle the influx of tourists. Only a very strong Adriatic storm causes the cancellation of a ferry and that is most likely to occur in winter.
Book Ancona-Split Ferries
[Check out accommodation near Split's ferry port]
Local Ferries
Split is the main embarkation point for dozens of ferries to the Dalmatian islands, including Hvar, Brac, Vis and Korcula. Most ferries are car ferries run by Jadrolinija but there are also passenger ferries that can whisk you out to the islands of Hvar, Vis and Korcula.
Local Ferry Timetables
Split-Supetar (Brac) Car Ferry
Split-Stari Grad (Hvar) Car Ferry
Split-Solta Car and Passenger Ferries
Split-Bol-Jelsa Passenger Ferry
Split-Milna-Hvar Passenger Ferry
Split-Vela Luka-Ubli Car Ferry
Split-Vis Car Ferry
Split-Milna-Hvar-Vis Passenger Ferry
Split-Hvar-Korcula Passenger Ferry
Split-Prigradica-Korcula-Hvar Passenger Ferry
Split-(Milna) Brac-Hvar-Korcula-Mljet-Dubrovnik Passenger Ferry
Split- (Bol) Brac-Hvar-Korcula-Dubrovnik Passenger Ferry
Split-Rogac-Milna Passenger Ferry
Split-Hvar Passenger Ferry
Book Local Ferries Online
Local Ferry Map
Here you can see the routes of all car ferries, passenger ferries and ships in the Split region.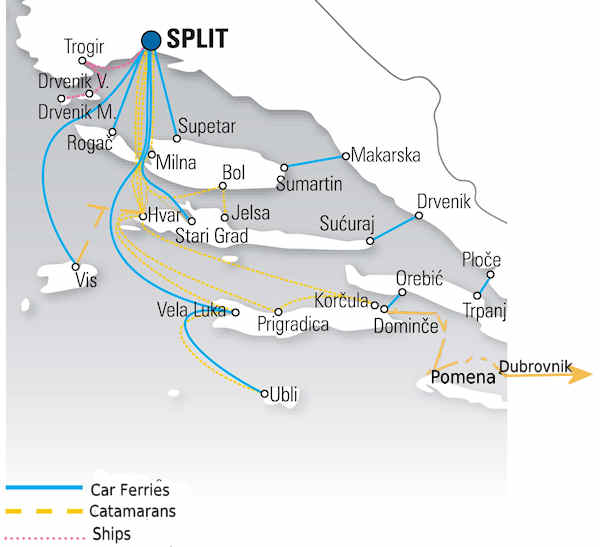 Reserving Local Ferries
In the height of the summer season, it's wise to buy tickets on car ferries to the most popular islands as soon as possible. Passengers can always get on board but space for cars can fill up! Online booking is available for all ferries. See more about booking ferries in Croatia.
Split Port
Split port is mammoth and busy. In purchasing a ticket make sure to ask the number of the berth and the name of the boat. It's easier to spot the boat from afar if you know the name. In the map below, notice that there are four docks: Lukobran; Sv Duje; Sv Petra; Sv Nikole. Cruise ships are at Lukobran, which is currently being enlarged and deepened to accommodate mega-cruisers. Sv Duje accommodates international ferries from Ancona and the rest of the local passengers and car ferries are between Sv Petra and Sv Nikole.
Map of Split Port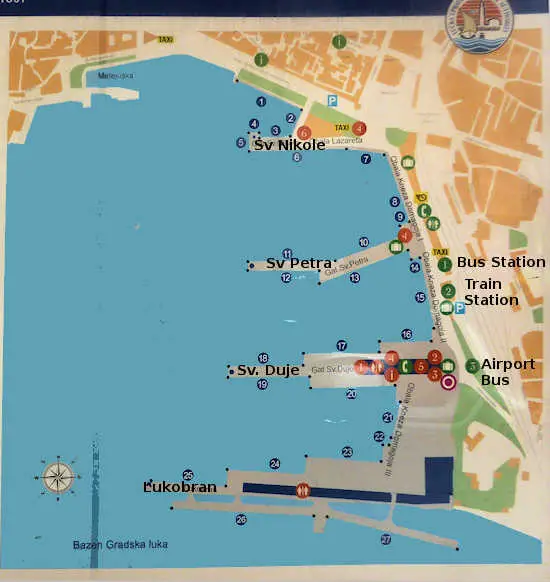 From Split Airport to Split Port
The cheapest and easiest way to go from Split Airport to Split Port is to take an airport bus which leaves you off at Sv Duje, as indicated above. Be aware it's not necessarily straightforward to find your boat. If you're pressed for time or travelling with a lot of luggage and you already have your ticket, it may be best to take a taxi from the airport directly to your boat (the taxi driver will know where to go). The coast is about €33. See more on ground transport from Split Airport.