In September 2017 a boatload of stars disembarked on rugged Vis island to make Mamma Mia: Here We Go Again, 10 years after Mamma Mia! which was filmed in Greece. The original Mamma Mia was filmed on the Greek island of Skopelos but this time filmmakers chose Vis to represent the fictional island of Kalokairi. For six weeks the island became a film set to the amazement of local residents. As one told me, "Nothing ever happens here so this was a big excitement".
The filming locations for Mamma Mia: Here We Go Again were primarily in Vis town, Komiza and Barjoska beach on the island's far western tip. There are daily ferries to Vis town from Split and regular buses to Komiza. You'll need wheels or a boat to head out to remote Barjoska beach though.
[Get details on travelling to Vis]
As soon as you step off the Jadrolinija ferry, you'll be on the Mamma Mia set as scenes were filmed right along the harbour.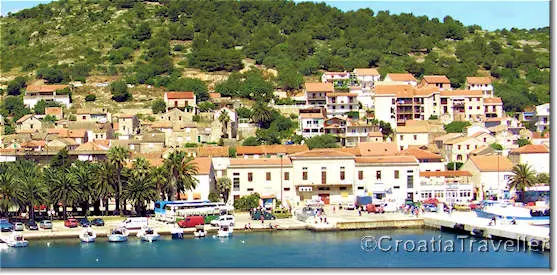 Just a few steps away is Dionis Pizzeria and Pansion which was transformed into a local market in the movie.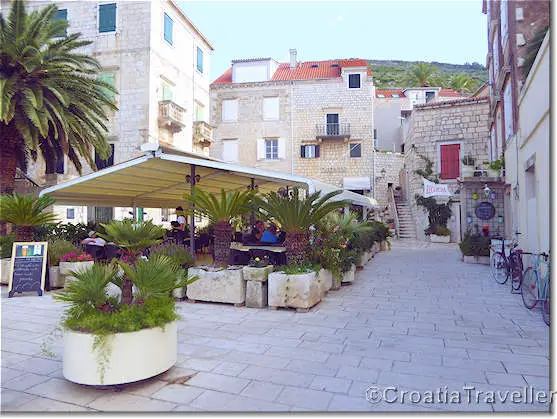 You'll see this staircase in the film.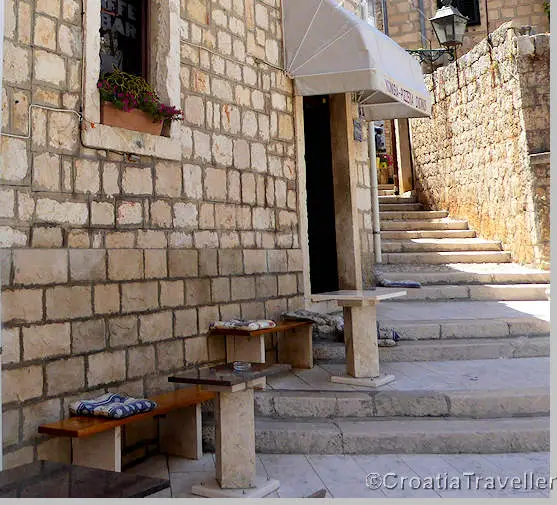 The little village of Komiza was primarily known as a launch spot for visits to the Blue Cave but it too had its moment in the spotlight even though most filming was done outside town.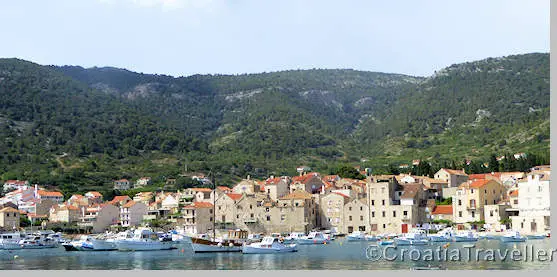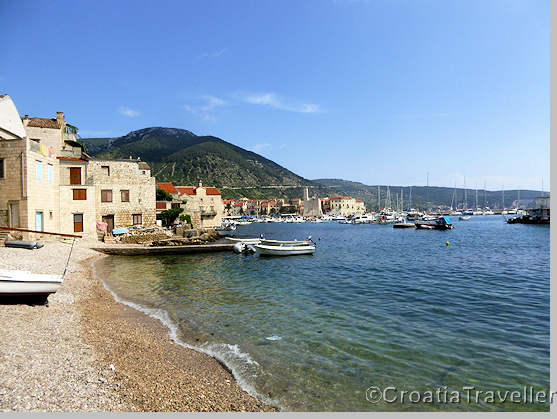 Look for a "Greek tavern" scene which was filmed in the renowned lobster restaurant, Jastozera.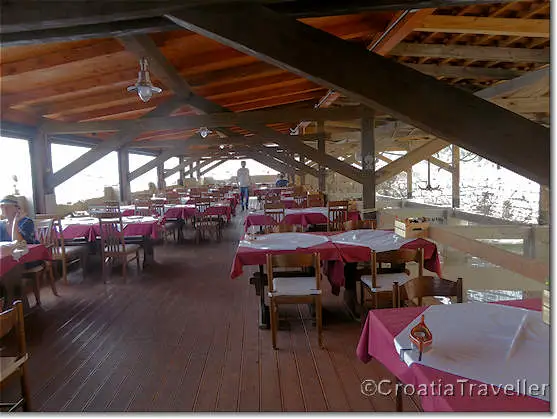 [Read more about visiting Komiza]
Barjoska Beach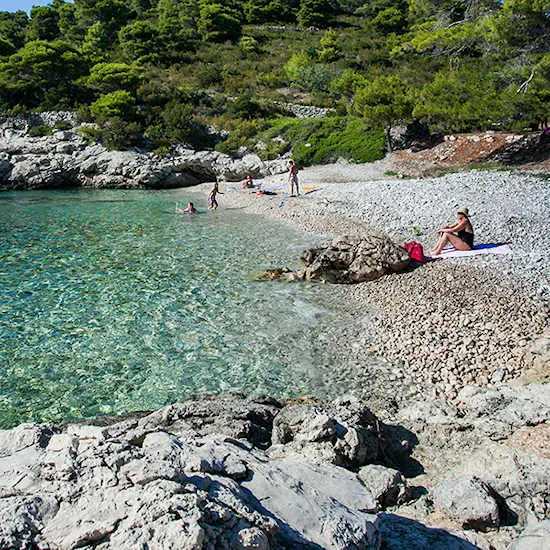 courtesy rentaboatkomiza.com
Barjoska is the island's western most beach and it appears in several scenes. Perhaps it was chosen for the end-of-day lighting? It was here that a wooden dock was constructed that serves as a stage for several singing and dancing scenes. As the bay is inaccessible by land, cast and crew came to work in boats. A number of taxi boats make the quick trip from Komiza.
Stiniva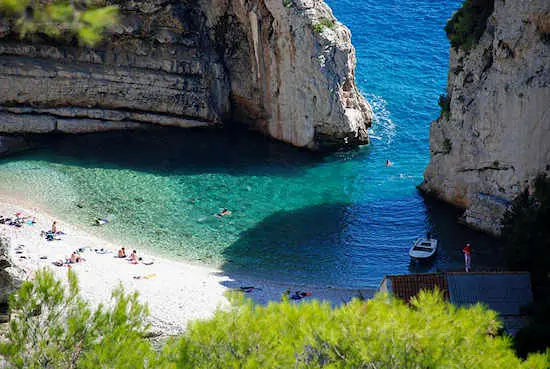 photo by Miroslav Vajdic
You'll also see a shot of Vis island's most photogenic beach, Stiniva. Be aware though, that the above photo does not show all the excursion boats crowding the cove. Most people arrive on excursion boats as the beach is at the bottom of a steep cliff.
[Check out more of Vis island's best beaches]
Filming Location Map
Mamma Mia: Here We Go Again Trailer
Watch this trailer and see if you can spot the Vis filming locations:
Here is the wrap video with more Vis scenes:
More Mamma Mia 2 Trivia
Where did the stars stay?
Most of the stars stayed in yachts offshore but a few chose land-based accommodation.
Jaksa Palace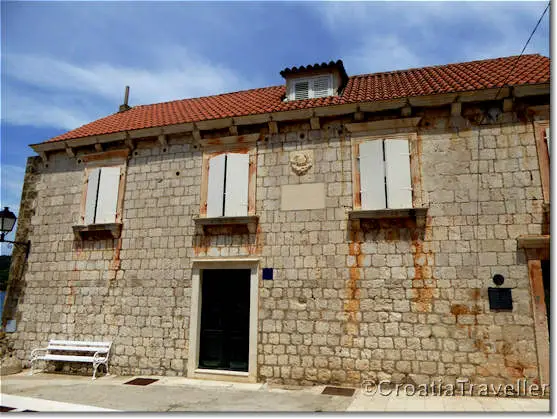 Amanda Seyfried stayed in the 17th-century Palaca Jaksa during filming. Located in the "Kut" portion of Vis Town, the austere facade of this building encloses a vast and beautiful courtyard. The other side faces the sea. Notice the coat-of-arms of the Jaksa family above the entrance. This noble family, stocked with a number of writers and distinguished officials, was known for being devoted Croatian patriots. During WWII it was the headquarters for Tito's Yugoslav People's Army and now it is owned by the granddaughter of the sculptor Ivan Mestrovic.
Villa Serena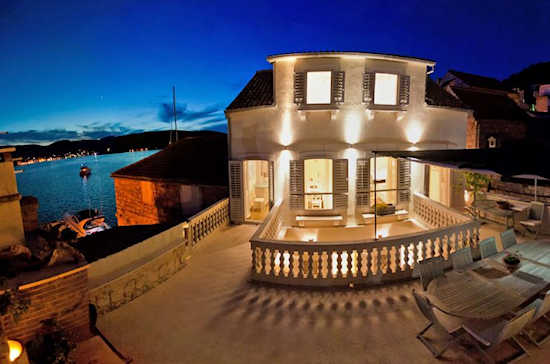 Andy Garcia stayed in the luxurious Villa Serena which sleeps 10. It can be rented through visvillas.com
[Check out more villas on Vis island]
Where did the stars go on Vis?
Actor Pierce Brosnan took the most advantage of Vis island. He and wife Keely Shaye Smith stayed on after the shoot, biking, boating and eating in local restaurants. Konoba Vatrica in Kut was a favorite.
Actor Jeremy Irvine was spotted on Srebrena beach.
What did locals think about the filming?
They liked it! Especially the money part. Around 3600 locals were involved in the production in one way or another. In addition to hiring local extras, the filmmakers cast local dancers at anywhere from €65 to €130 per day. Although a catering company provided food, lodging for the entire 700-person crew was in local accommodation. They even rented local animals for supporting roles, including goats and chickens but not, curiously, donkeys which were imported from the UK.
See Vis on a Five-Island Tour