Dubrovnik's Babin Kuk peninsula at the northern end of the Lapad peninsula has five luxury hotels, three four-star hotels, two three-star hotels and a good selection of apartments and guesthouses. It's even possible to rent a mobile home.
[Check out all accommodation in Babin Kuk]
Recommended Hotels in Babin Kuk
Five-Star Hotels

With a private beach and a full complement of wellness facilities, this five-star luxury resort is part of the prestigious Importanne Group. Book now.
The  classy Hotel More has 33 luxurious rooms and two suites, most of which have sweeping sea views. The unique "cave bar" is a popular spot with locals and the "beach" area is beautifully arranged with comfortable lounge chairs. Book now.  
Indoor and outdoor pools and balconies with sea views in every unit make the Royal Palm an outstanding choice. Nearby is a beach area with lounge chairs and umbrellas. Book now.
The stunning Royal Princess is perfect for a quiet, relaxing holiday. "We stayed in Dubrovnik at the Royal Princess which was absolutely wonderful. Our suite overlooking the Adrian sea was perfect. The service of the staff was outstanding. We loved the location in between a number of wonderful restaurants." (Sally Barre) Book now.
The Royal Blue is the newest Importanne venture and its claim to fame is the rooftop swimming pool with spectacular views. There are also indoor and seaside swimming pools as well as a rock platform with loungers and sea access. Book now.
A 2014 overhaul made a good hotel even better. Well-located in front of a bus stop, this is the only hotel on Babin Kuk to boast its own private, pebble beach. Book now.
Four-Star Hotels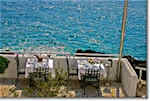 Hotel Neptun
Wake up in the morning and enjoy sweeping views of the sea which is right nearby. Facilities are sparkling after a 2015 overhaul and the new soft, earth-toned decor is modern and soothing. Book now.
This vast resort represents the very latest in hotel design, offering truly world-class comfort: wellness, swimming pools and Croatia's largest conference centre. In 2013, it was named "Croatia's leading hotel at the World Travel Awards. Book now.
A great family hotel with an infinity pool in a quiet leafy neighbourhood.Book now!
Three-Star Hotels

This is the best budget family hotel in Dubrovnik with a wealth of kiddie activities plus it's all-inclusive. Book now!
Part of the Valamar chain, this large hotel offers a pool and easy beach access. Book now!
Best Apartment Rentals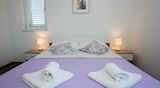 Apartments Sandra Solitudo
Near the beach with free parking and attentive hostess.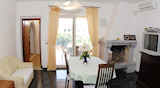 Villa Antea
Elegant, classy four-star apartments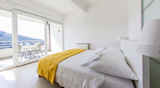 Villa Katarina
Right near the sea
Features of Babin Kuk
Carpeted with shrubs and trees, this quiet peninsula provides more of a resort experience than a cultural or urban experience. Babin Kuk is great for familes as there's plenty of woodsy space for kids to work off energy and the three star hotels are child-friendly. Couples looking to pamper themselves in a five-star hotel, laze on the beach and take romantic walks will also enjoy Babin Kuk.
Rubbing shoulders with the locals however, is not part of the Babin Kuk experience. As there are few residences and even fewer restaurants and cafes, hotel guests must either use the hotel facilities or hop on one of the very frequent local buses for a trip to Dubrovnik's Old Town.
Beaches on Babin Kuk
The southern end of Babin Kuk contains Dubrovnik's longest beach, the Copacabana, a pebble beach that is well-equipped for a day of sun and sea. There are snacks, drinks, meals and ice cream on offer, plus a wealth of water sports activities. It's also convenient to have showers and changing rooms, umbrellas and beach chairs. Bring change though! Showers are €0.50 for 30 seconds.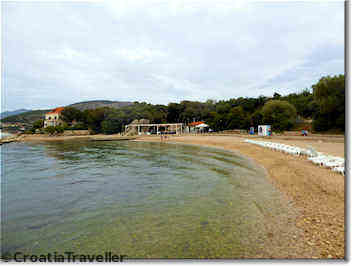 Those looking for a more upscale beach experience should head to the nearby Coral Beach Club, one of Croatia's best beach clubs. This trendy new establishment looks out at Daksa island and is known for its cocktails.
For a different view, try Solitudo Beach a short walk east of Copacabana.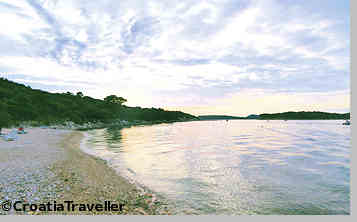 Solitudo Beach
See more on Dubrovnik beaches.
What to do in Babin Kuk
Besides going to the beach? Not a great deal. There is a lovely coastal walk around the eastern side of the peninsula that ends around the Orsan Yacht Club (an excellent dining choice, by the way) at the foot of Lapad. The walk is particularly enchanting at sunset.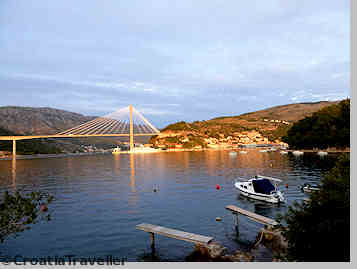 Getting to Babin Kuk
It's convenient although not obligatory to have your own wheels if you stay in Babin Kuk (see more on car rentals in Dubrovnik) but the city bus lines do serve the neighbourhood. Buses 5, 6 and 7 stop in front of the Hotel President. See more on local buses in Dubrovnik.
Airport buses do not come out to Babin Kuk. Coming from the airport, get off the bus at Pile and take the number 6 bus to Babin Kuk.
Babin Kuk on a Map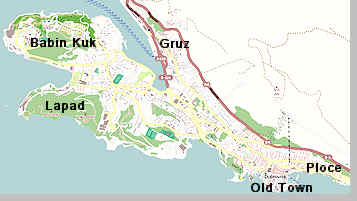 Recommended five-star luxury hotels in Dubrovnik--fine dining, spa treatments, pools
Recommended four-star hotels in Dubrovnik --large, modern, comfortable and right on the beach.
Recommended three-star budget hotels in Dubrovnik --pools, games, water sports and entertainment.
Other Dubrovnik Neighbourhoods