Only 20 minutes by boat from Dubrovnik, Kolocep Island is the closest of the Elafiti Islands making it an easy day or half-day trip from Dubrovnik. It's not even 2.5sq km with a population of 165 so we're not talking "bustling metropolis" here. Most of the island is dense forest interspersed with vineyards, olive groves and citruses. The only two settlements on the island are Gornje and Donje Celo and each has a small beach. There are a few cafes on Donje Celo. There's also a small naturist beach but for a better beach try Lopud island.
[Choose the perfect day trip from Dubrovnik]
No cars are allowed on the island but a network of paths connect the villages with the coast. The walled lane that links the two settlements is bordered by remains of ancient chapels.
The offshore waters are abundant in lobster and the indented coast is marked with coves and caves. It was once a center for coral divers but the reefs have now been stripped clean. From the south side of the island, take a swim or kayak to the Blue Cave.
The best way to explore Kolocep's coast is by boat or kayak. Although it is not possible to rent a boat or kayak on the island, a number of agencies in Dubrovnik run boat and kayaking tours of Kolocep and the Elaphiti Islands. Check out Kolocep boat and kayak tours.
Where to Stay
Staying in Kolocep is a wonderful option for a peaceful and relaxing holiday. There are a dozen or so rentals from apartments to villas. The new and fabulous Aparthotel Kalamota is garnering rave reviews for its blend of style, luxury and friendliness. Art-lovers will appreciate the canvases of local artist Dubravka Losic that adorn the walls and everyone will love the swimming pool.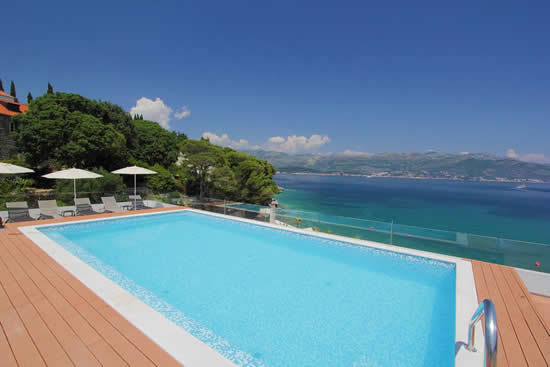 Where to Eat
Skerac
(tel 091 576 1165)
Right on the marina, this local dining spot serves up freshly-caught fish with sides of salad, vegetables or potatoes.
Tourist Information
The Tourist Information Office is on the harbour but closes from mid-September to mid-June.
Getting to Kolocep
You can easily get to Kolocep by boat from Dubrovnik. Passenger boats run daily year-round. Get the schedule.