Saplunara on Mljet Island may be the last hidden jewel left in the Adriatic. Just when you thought every single white sand beach on a pine-rimmed cove had long since been colonized by sea-seeking visitors, Saplunara remains isolated and largely untouched. Its beauty is truly a balm to the soul.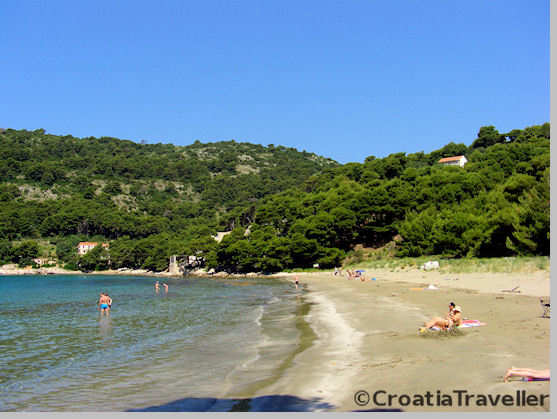 The name Saplunara comes from the Latin word, sabalum, that means sand. There are two sand beaches, a larger and smaller one, on the kilometre-long cove. As the largest remaining coastal sand habitat in Croatia, Saplunara hosts several plant species that exist nowhere else in Croatia. As such, it is considered a "protected area" with signs begging you not to litter or camp. A forest of Aleppo pines and junipers stretches from the sandy shore inland where there is a small settlement. There are no hotels or restaurants but there is a sprinkling of private accommodation.
There are only about three dozen inhabitants of Saplunara but the settlement reaches back to antiquity. It is said that St Paul the apostle was shipwrecked nearby in 61AD and spent three months here preaching the Gospel and, no doubt, enjoying the surrounding scenery. Modern Saplunara was founded after World War II.
There are no ferries to Saplunara. To get there, take a ferry to Sobra. Buses sometimes meet the ferry; otherwise take a taxi. (see more about getting to Mljet Island) Saplunara is only 16km from Sobra. The two-lane road is extraordinarily scenic but not particularly well-maintained.