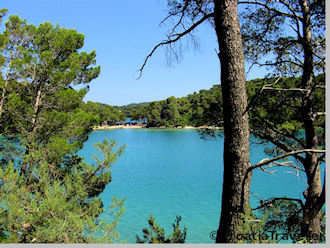 Malo Jezero, Mljet Island National Park

View Croatia in a larger map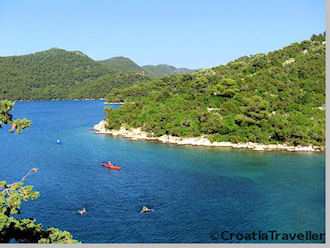 Veliko Jezero, Mljet Island National Park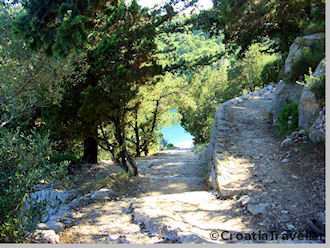 Sv Marija Islet, Mljet National Park
The untamed Dalmatian island of Mljet is one of Croatia's top sights and a paradise for anyone looking to get away from it all. Half Mljet island is a pristine national park. There are few residents, no large towns and only one major road.
The seaside villages of Pomena, Polace, Sobra and Saplunara attract the most visitors.They come for the hiking, biking, swimming, stunning scenery and peaceful atmosphere that reign everywhere. The lushly forested island is so seductive, it's said that Odysseus came and stayed for seven years. You can even visit the Odysseus cave. It's really a large and beautiful grotto where the peripatetic traveller allegedly met the nymph, Calypso, who nursed him back to health on the island.
The waters around Mljet are a treasure trove for scuba divers. A recent excavation around a 10th-century shipwreck revealed several hundred artifacts including bottles, amphorae and decorated glass. To arrange diving trips, contact Aquatica Mljet.
Mljet Island National Park
The highlight and most unusual feature of Mljet National Park is the two inland salt water lakes--Malo Jezero and Veliko Jezero--connected to the sea by a narrow canal.You can stroll along the lakes on paths shaded by pine trees, bicycle through the park, rent a kayak to paddle the lakes or simply swim the clear, blue water. In the middle of Veliko Jezero is the tiny islet of Sv Marija which contains a former Benedictine monastery dating from the 12th century. It's now a restaurant, accessible by regularly scheduled small boats.
You can access the park at either end via the settlements of Pomena and Polace (pronounced Po-latch-e) which have most of the accommodation and restaurants. The admission price for the national park is 100/50Kn adult/ kids and includes the boat trip to the monastery on Sv Marija islet. See more on Mljet National Park tourist information.
Independent Travel to Mljet
To see it all, rent a car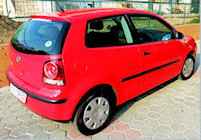 €27 for this Polo through
AutoEurope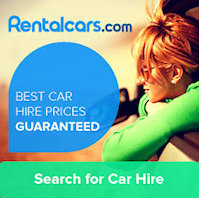 Compare 783 companies
The main port is Sobra on the island's eastern end which is connected by car ferry to Prapratno on the Peljesac Peninsula. See the Prapratno-Sobra car ferry schedule.
From Sobra, buses take you to Pomena and Polace.
There's also a passenger boat, the Nona Ana,between Dubrovnik and Polace that leaves in the morning and returns in the afternoon. It runs from June to September and connects with Korcula Island in July and August. See the Nona Ana schedule.
Another passenger boat runs seasonally from Split to Brac, Hvar and Korcula islands, then going on to Mljet (Pomena) and Dubrovnik. See the schedule. It is not possible to make a day trip from Dubrovnik to Mljet on this route however.
Accommodation in Mljet
For a romantic, rustic experience there's no better island than Mljet. There's only one hotel on the island however, the Hotel Odisej in Pomena, but there's a fair amount of private accommodation mostly in Pomena and Polace. Try Guesthouse Pomena, Villa Lucija, or X-Rooms Mljet.
Dining in Mljet
Fish and seafood are served everywhere on Mljet island. Many islanders are still engaged in fishing and happily supply the local restaurants. For local specialties, try the makaruli which is homemade macaroni with goat cheese and fried garlic or prandispanj, a traditional cake.
Tourist Information on Mljet Island
The Mljet Island National Park tourist office (tel 020-744 186) has an office in Polace (opening hours 9am-1pm and 3-7pm in season) and one near Sobra (tel 020-746 025) open 8am-8pm in season. For more information, see mljet.hr.
Recommended Tours
More from Croatia Traveller
Questions? Comments?
©CroatiaTraveller 2005-2018 All rights reserved