Only 19km northwest of Dubrovnik lies the medieval village of Trsteno, surrounded by some of the lushest vegetation in the Mediterranean. Just off the main road are two giant old plane trees brought from the Bosphorus 500 years ago. With a height that stretches up to 50m and a circumference of 11m on the largest tree, it's no surprise that the trees are named a national rarity.
Trsteno Arboretum
And that's not all! Trsteno is the site of a remarkable Arboretum and Botanical Garden managed by the Croatian Academy of Sciences and Arts. Although badly damaged by Yugoslav artillery in 1991 and again by a fire in 2000, the Arboretum has been lovingly recreated and remains a lovely place to wander. Shady paths wind through the park and spectacular sea vistas peek out from behind the trees.
The peaceful location is what prompted rich families from Dubrovnik to build summer residences along the Trsteno coast in the 15th and 16th centuries. In 1562, the poet Ivan Gundulic built a castle in Gothic-Renaissance style and around it planted a neo-romantic park with exotic plants interspersed by statues. Fortunately, the Gundulic castle and many of the ancient plants survived the assault in 1991 and the fire.
Now Trsteno is gaining new fans since it was used as a set for numerous scenes in the TV series Game of Thrones. More.
Accommodation in Trsteno
There are no hotels in Trsteno but there is the extraordinary Radisson Blu in Orasac, only 3km south. There are also several guesthouses such as the friendly and familial Villa Ro-Ela.
Getting to Trsteno

Trsteno is an easy day trip from Dubrovnik or a great stop if you're driving the coastal road from Split to Dubrovnik. Many buses from Dubrovnik to Split stop at Trsteno.
Admission
There's no entry fee to the village of course but there is an admission charge to enter the Arboretum. It's open daily.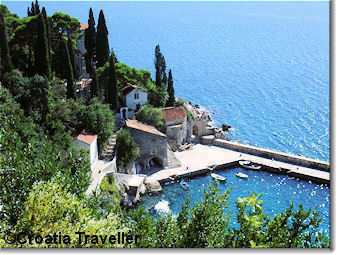 View Croatia in a larger map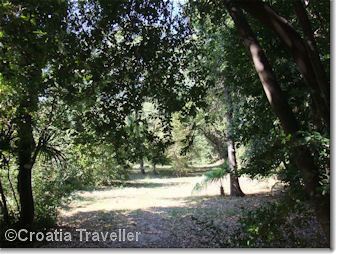 Romantic paths in the Arboretum