According to legend,
Korcula town
was founded by the Trojan hero, Antenor, the founder of Padova. But that's only a legend. It's a fact that the town and i
sland of Korcula
were mentioned as early as the 10th century but civilisation on the island goes much further back.
Archeological finds point to the existence of a pre-Illyrian civilisation and Korcula was the first of all the Adriatic islands to come within the sphere of Greek colonisation probably as early as the 8th century BC. This early settlement (possibly in Vela Luka) developed into a town and a trading centre. The inhabitants minted their own coins and maintained links with the mainland and a trading centre on the Neretva river. The town vanished into the mists of history even before the Romans arrived.
The Romans conquered the island as part of their Illyrian conquest but it appears not to have been an important centre for the Romans as few traces of their occupation remain.
Along with the rest of Dalmatia, Korcula fell under the rule of the Byzantines, Venetians, and Austro-Hungarian empire but the Venetians left most of an imprint. It was the Venetians who constructed the walls surrounding Korcula town in order to protect it against the Turks and pirates.
After the fall of Venice, the Austrians arrived followed by the French, the English (until 1815) and then again by Austria until 1918. In 1918, the Italian army occupied the island until 1921 when Korcula became part of the former Kingdom of Serbs, Croats and Slovenes. In 1941, the island was again occupied by Mussolini's Italian troops who remained until the capitulation of Italy in 1943. Then the Germans came and occupied the island until 1944.
Further Resources
All about Korcula in Croatia Traveller's Dalmatia: Split to Dubovnik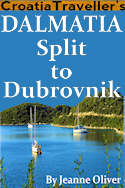 Accommodation
Related Pages
Lumbarda
Korcula Town
Vela Luka
Korcula Island
Getting to Korcula
Accommodation
Croatian History
Moreska Sword Dance