The
Moreska Sword Dance
is
Korcula's
proudest tradition and one of the Adriatic's most unusual customs. At one time this "fighting dance" was prevalent in southern Europe. It probably began in Spain as a form of protest against the Moorish occupation and then migrated to Korcula in the 15th century. Essentially, it's a danced version of a sword battle and tells the story of an abducted princess.
The story begins with a speech by the princess who declares her love for the White King (dressed in red for the dance). Unfortunately for her, the Black King is in love with her and has stolen her away from the White King.
As the colourful spectacle progresses, the armies of the White King and the Black King draw swords and "fight" for the princess. The "fighting" dance is intricately staged to represent a real battle which terminates, of course, with the restoration of the princess to her one true love.
Although the dance was performed in many Mediterranean towns through the 19th century, now it is only performed in Korcula. Traditionally, it was only performed on St Theodore's Day (Korcula's patron saint) on July 29 but now it is presented regularly.
Schedule
In July and August: on Mondays and Thursdays at 9pm. From mid May through June and in September through mid October on Thursdays at 9pm. Tickets should be purchased in advance at the Korcula Island tourist office (tel 020-715 701), obala Tudmana 4.
Further Resources
All about Korcula in Croatia Traveller's Dalmatia: Split to Dubovnik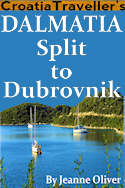 Accommodation
Related Pages
Lumbarda
Korcula Town
Korcula Island
Getting to Korcula
Accommodation
Korcula History