To cruise the Croatian islands, Adriagate offers a number of ships. Of all the motorized sailing vessels, we chose the Sveti Vid, built in 1955 and overhauled in 2000. A total of 14 cabins are aligned in two decks along 35m. Crew quarters are below deck. The width is 7.3m and the cruising speed is 9 knots.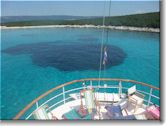 One of the great features of this boat is that there were a lot of places to hang out. For sunning, there was a choice of two sundecks on the bow and one on the stern plus one on top. To escape the sun, a partially roofed area in front of the dining room was set up with long tables and comfortable banquettes.
The dining room/bar was spacious and comfortable. For entertainment, a flat screen tv in the corner was usually showing Croatian football matches. Meals were prepared in a small kitchen between the bar and the cabin area.
When the ship was moving, there was some noise from the motor that was more muffled on the top deck.