Puntalina, Rovinj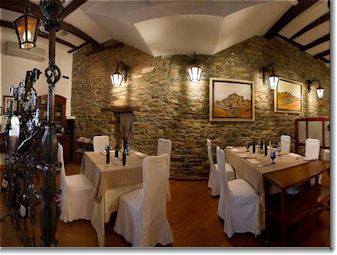 Zigante
Monte Rovinj
Specialties are local, seasonal ingredients in traditional dishes with a modern touch. In 2017 Monte became Croatia's first restaurant to earn a Michelin star.
Blu Rovinj
Specialties are Novigrad scallops wrapped in toasted sesame seeds with an exotic salad, sole fillet with artichokes and for dessert vanilla ice with warm wildberries and poppy grains
Puntalina, Rovinj
In this scenic restaurant on the sea, the specialties are Puntulina seafood starter, Prawns with olive oil and garlic, Puntulina fish fillet, Istrian pastry
Cok, Novigrad
Specialties here are raw, marinated fish and beef tartare.
Damir and Ornela, Novigrad
Their specialty is raw fresh fish, filleted in front of you, served with Istrian olive oil, coarse salt, and truffles on the side.
Pepenero, Novigrad
Fish is the specialty prepared with unusual creativity.
Restoran San Rocco, Brtonigla
Specialties are creamed potato with truffles, homemade tortellini and ravioli stuffed with Istrian ox meat, chocolate cake with truffles.
Milan, Pula
Try the scallops, langoustine risotto, frogfish in this hotel-restaurant.
Sv Nikola, Porec
Specialties are Mare Nostrum'' carpaccio (langoustine, frogfish and octopus),Sole fillet in shellfish sauce, Frogfish fillet in Teran wine sauce.
Villa Annette, Rabac
The unusual menu includes black doughnuts in frogfish brodetto, pasta with sardines and salted anchovies, Istrian ox beefsteak alla Annette in teran wine sauce
Zigante, Livade
A temple of truffles. Try the tortellini filled with white bean cream and fresh truffles and even creme brulee with truffles.
Restaurant Reviews
Adriana Restaurant, Split
As a general rule, restaurants in heavily trafficked tourist locations offer poor value for money. But rules are meant to be broken!
The post Adriana Restaurant, Split appeared first on Croatia Travel Blog.
More.
Buffet Fife, Split

Is there such a thing as too much guidebook love? Buffet Fife in Split is much more popular with tourists than locals. Maybe it's the quality of the food.
The post Buffet Fife, Split appeared first on Croatia Travel Blog.
More.
Best Restaurants in Croatia 2016

The ultimate foodies guide to Zagreb, Zadar, Istria, Split, Dubrovnik, Hvar island and more.
The post Best Restaurants in Croatia 2016 appeared first on Croatia Travel Blog.
More.
Zigante: The Truffle Palace

My truffle meal in famed Zigante restaurant.
The post Zigante: The Truffle Palace appeared first on Croatia Travel Blog.
More.
Pane Vino, Rovinj

Pane Vino e Non Solo bills itself as "The real Italian cuisine with the finest Istrian product". Was I happy with it?
The post Pane Vino, Rovinj appeared first on Croatia Travel Blog.
More.
Recommended Experiences
More from Croatia Traveller
My Favorite Travel Accessories
©CroatiaTraveller 2005-2021 All rights reserved