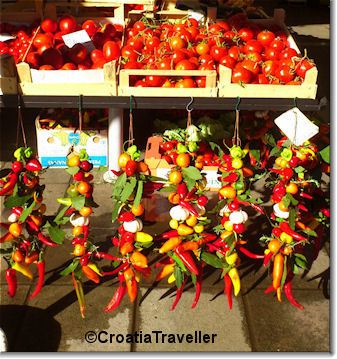 Rovinj market: Start with the freshest ingredients
Istrian
cuisine shares much with
Dalmatian cuisine
. Along the coast, fish and seafood reign while the interior hills are devoted to their meat dishes.
     Scampi Buzara is a delightfully messy dish based on local scampi (prawns) stewed in a tomato and white wine sauce.
     Istrian dried ham (prsut) is a point of local pride. First the pigs are fed a special way, then the meat is smoked according to local custom with spice mixes passed down for generations. The resulting delicacy is thinly sliced and the bones are used as a flavouring for vegetable and bean soup (manestra).
    Jota is another hearty soup based on beans, sauerkraut, potatoes, pork and bacon. Naturally, it's more popular in the rural interior.
     Perhaps Istria's most famous gastronomic specialty is its truffles. Istria produces truffles all year that may be white or black depending on the season. Whether stirred into an omelette or combined with fresh pasta, a truffle meal in Istria is not to be missed!