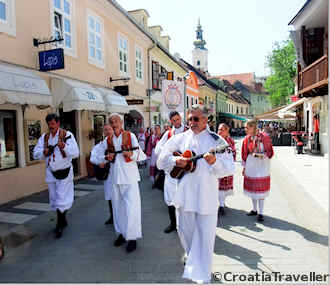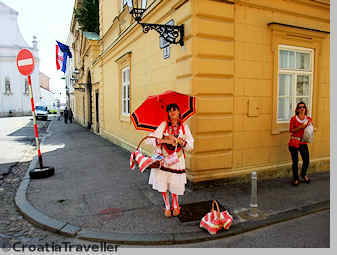 Now that you're venturing into Zagreb, why not get a taste of its legends, historical tales, folklore and music in the Zagreb "time machine"? From April or May to September the Zagreb Tourist Board transforms the winding streets of Zagreb's Upper Town into a "time machine" that allows visitors to experience the sights, sounds and flavors of Old Zagreb. The idea is to celebrate Zagreb's eventful history and acquaint visitors with local traditions.
Stroll Zagreb's streets on Saturday and you'll see reenactments of Zagreb's favorite stories and musicians strolling the streets playing love songs for coins as they did in olden days.
In front of the Cathedral, on Tkalciceva street and in front of the nearby Tourist Office there are folk music and dance performances and opportunities to sample local cakes and fruit. All around the Upper Town you'll see everyone from shopkeepers to postal clerks dressed in traditional style. Expect a detour into the dark side with witches, executioners and city guards making an appearance. When it all becomes too much, head to the heart of the Lower Town, Zrinjevac square, where  weekly pop-classical concerts by local and guest orchestras entertain crowds of happy dancers. Yes, the expected audience is tourists but the locals have a ball with it as well.