One reason why Zagreb is such fun to explore is that it's really two cities in one: the Upper Town and the Lower Town. The hilly Upper Town is the oldest section with spires and winding streets while the Lower Town is larger, flatter and loaded with parks, bars, restaurants and quirky shops. Here are 22 of the best things to do in Zagreb beginning in the Upper Town, ending in the Lower Town and including a day trip.
Shop at Dolac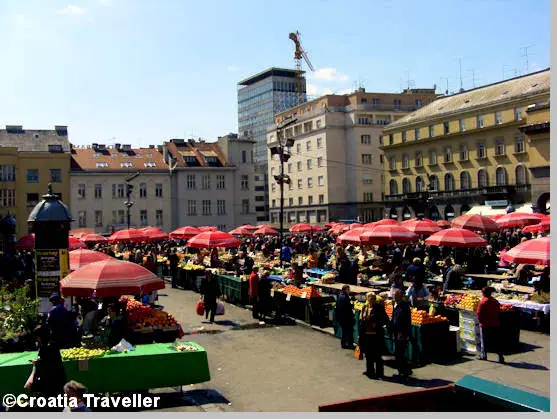 Zagreb residents insist on the best and freshest produce which is what is displayed at the Dolac Market. Known as the "belly of Zagreb", the array of fruits, vegetables, cheese, meat, fish, homemade honey, jelly, olive oil and liquor comes from all Croatia. It's a great place to put together an urban picnic. There were once houses on the square which were all torn down in the early 20th century to install this multi-level market. Don't miss the statue of a "kumica" at the market entrance. Kumica were village women that came to Dolac to sell their fresh produce, eggs and homemade cheese.
Experience Old Zagreb on Tkalciceva Street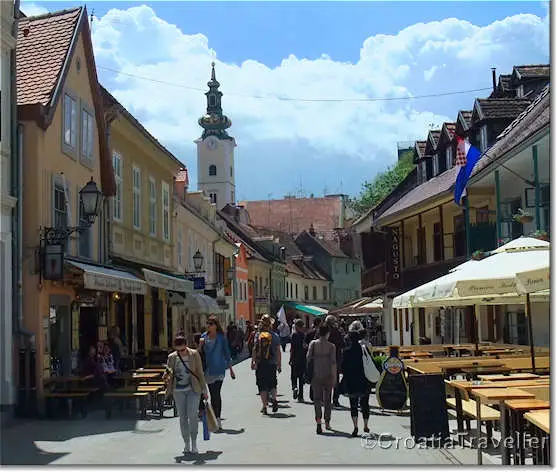 Zagreb's most colourful street was once a creek that separated the two hilltop settlements of Kaptol and Gradec. The low houses on Tkalciceva were once workshops that produced cloth, soap, paper and alcoholic beverages. Now you'll find cakeshops, small boutiques selling jewelry and accessories, cafes and bars.
[See more on shopping in Zagreb]

Climb Lotrscak Tower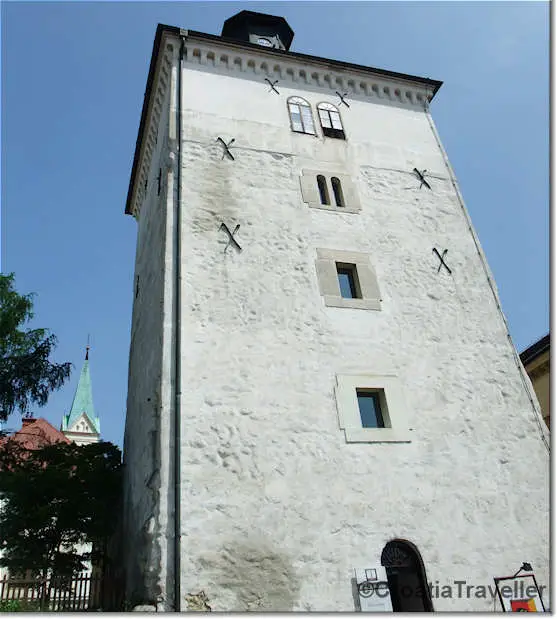 This striking tower is the only preserved part of the original 13th-century walls. The bells used to alert townspeople when the gates were about to be locked for the night. The cannon is still fired every day at noon. At 130 decibels, the boom is heard throughout Zagreb and even the suburbs. You can set your watch by it!
Take a break on Strossmayerova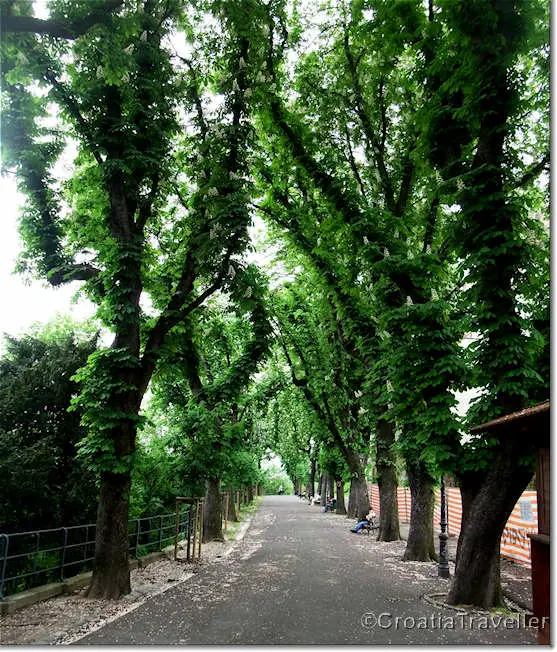 This tranquil, leafy promenade dates from 1872 and was Zagreb's first public walkway. Known as "Stross", the street was named after Bishop Strossmayer, a leader of 19th-century Croatia's cultural revival. It was a favorite spot of poet Antun Matos whose statue is on a nearby bench. Perhaps he was entranced by the wonderful views over the Upper Town.
Marvel at the mosaics on St Marks Church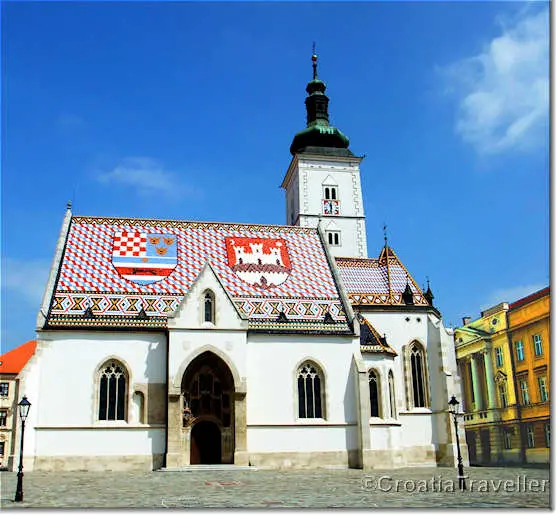 These colourful roof tiles represent the coats of arms of the Kingdom of Croatia, Dalmatia and Slavonia and the city of Zagreb. Dating from the 13th-century, the church was overhauled at the end of the 19th century by Herman Bollé, the German architect responsible for Mirogoj cemetery. The church defines St Mark's Square which contains Croatia's government buildings: the Sabor (Parliament) Banski dvori (Governor's Palace) and Constitutional Court. Don't miss the changing of the guard which takes place at noon on Saturdays, Sundays and holidays. Soldiers in full regalia set off from Banski dvori and march around Kaptol.

Visit Zagreb Cathedral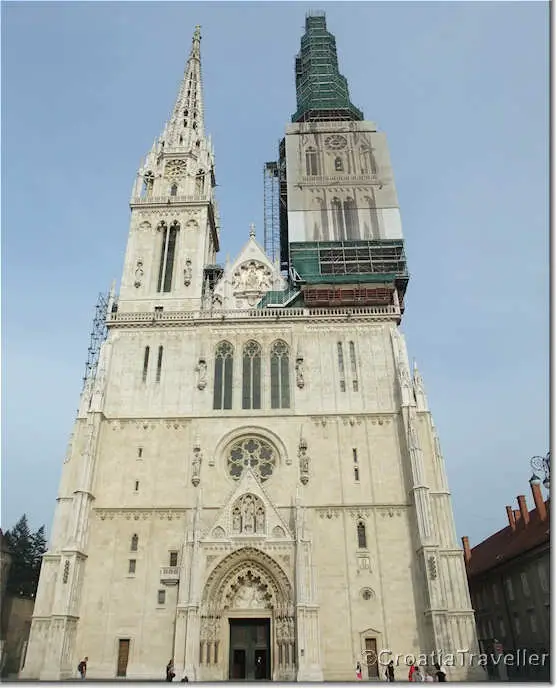 The soaring towers of the Cathedral of the Assumption of the Blessed Virgin Mary punctuate Zagreb's skyline. Construction of the cathedral began around the 13th century with modifications, additions and renovations continuing throughout the entire course of Zagreb's history. The exterior is largely neo-gothic but the richly-decorated altars are firmly baroque in style. Don't miss Cardinal Stepinac's tomb inside. The controversial Archbishop of Zagreb was beatified in 1998. Notice the defensive walls around the cathedral, hastily constructed in 1512 to counter the Turkish threat. More about the Zagreb Cathedral.
Honour the Departed at Mirogoj cemetery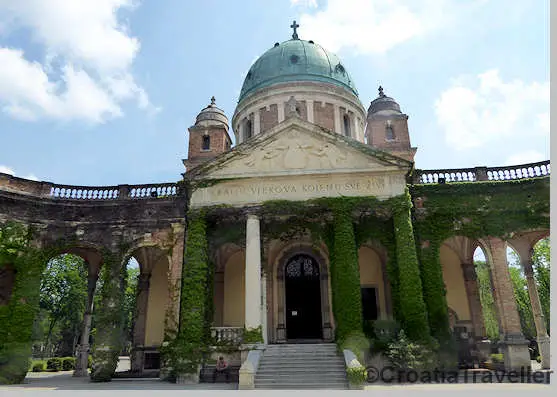 From the Cathedral it's easy to catch a bus for the 10-minute ride uphill to grandiose Mirogoj cemetery. Built by Herman Bollé in the late 19th-century, the stately arcades, finely sculpted tombs and acres of trees and paths make Mirogoj one of Europe's most beautiful cemeteries. Everyone who was anyone in Croatia is buried there. More on Mirogoj cemetery.

Ponder lost love at the Museum of Broken Relationships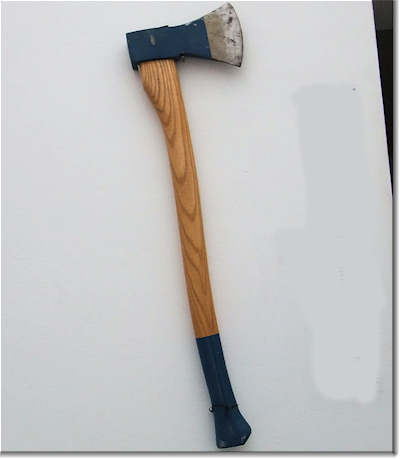 This highly original and celebrated museum honours love relationships that have gone sour. Donated objects seem mundane but reading the stories that accompany each object is surprisingly moving. See more on Zagreb's museums. Book a ticket now and skip the line.
Wander through Gric Tunnel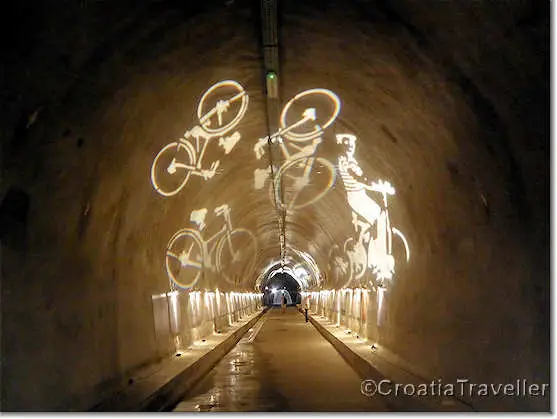 Built in 1943 to shelter citizens from bombs, the Gric tunnel is part of a secret tunnel network under the Upper Town. Gric is the only tunnel now open and it winds for 350m between Mesnicka and Radiceva streets with an additional (hard-to-find) entrance in the Lower Town. In addition to being a cool shelter from the summer heat and winter winds, the tunnel hosts various artistic or cultural exhibitions. The photo above shows a light show commemorating Croatia's sporting history. It's airy and well-lit with ambient music and public toilets.
Ride the World's Shortest Funicular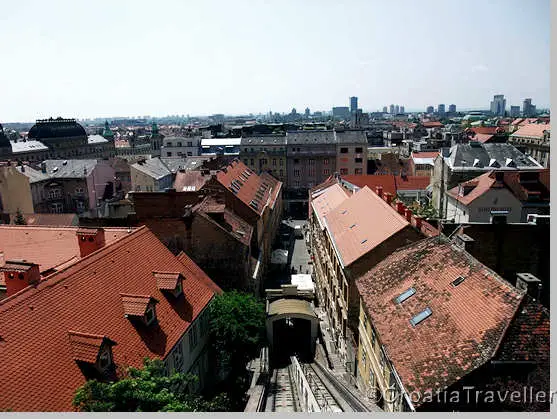 Zagreb's funicular covers only 66 meters and takes 64 seconds but it's a mightily convenient way to go from the Lower Town to the Upper Town in a hurry. Built in 1890 when it was steam-powered, the little cable car was Zagreb's first ever public transport. The car goes from Tomiceva in the Lower Town to the foot of Lotrscak tower every 10 minutes and can hold 28 adults. Tickets are €0.50 and are available for purchase at either end. See more about getting around Zagreb.
Stroll the Green Horseshoe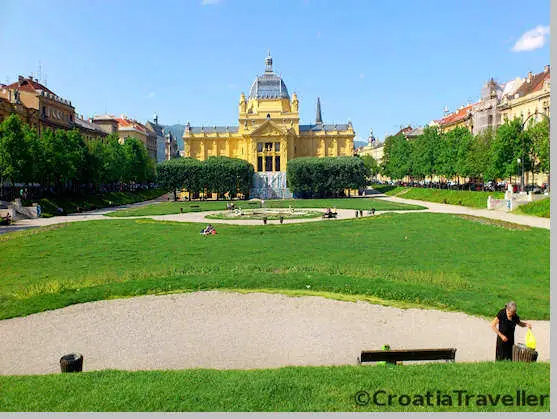 Also called the Lenuci horseshoe after the 19th-century urban planner Milan Lenuci, this string of parks and squares defines the Lower Town. Begin at Tomislava square (above) bordering the train station and take a look at the Art Pavilion which hosts high-profile art exhibitions. Next in line is Strossmayer square with the neo-Renaissance palace that now contains Strossmayer Gallery of Old Masters. Finally there's Zrinjevac square with flower beds, fountains, plane trees, busts and a wrought-iron bandstand. Don't miss the 19th-century meteorological post which displayes the temperature, barometric pressure and time.

People-watch from Johann Franck Cafe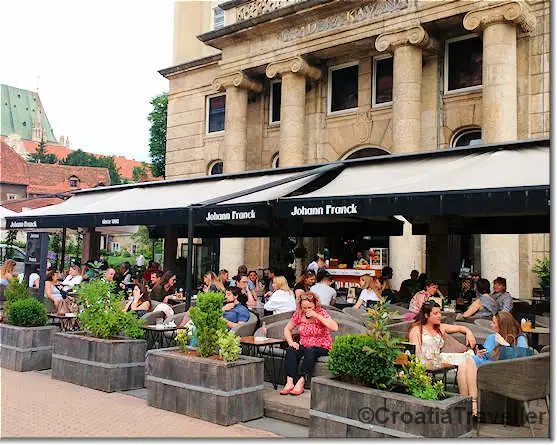 This coffee house, bistro and club is right on busy Jelacic square which makes it a great spot for people-watching. Open from breakfast until midnight, Johann Franck cafe or Gradska Kavana, has a spacious outdoor terrace and a magnificent Art Deco interior that's worth the price of a coffee to see. Snacks and meals are also available and there's a DJ in the evening. More on nightlife in Zagreb.

Explore alternative Zagreb


Perhaps because Zagreb remains reasonably-priced in comparison to other European capitals, artists, poets and performers have found a home here. A good place to explore their haunts is Marticeva street, the heart of hipster Zagreb, east of Jelacic square. Offbeat cafes, artisanal shops and small galleries are outlets for the whimsical creativity that makes Zagreb so vibrant. More about hipster Zagreb.
Eat Strukli at Le Bistro Esplanade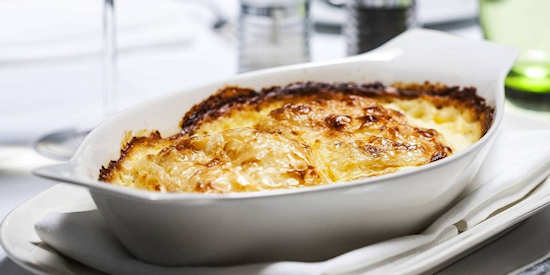 The Esplanade is Zagreb's finest hotel, an Art Deco throwback to the days of the Orient Express. Their flagship restaurant is Zinfandel's, a gastronomic paradise of fine cuisine. The casual Le Bistro is also an excellent restaurant that is known for its strukli, a cheesy, creamy Zagreb specialty. More about dining in Zagreb.
Time Travel with the Zagreb Time Machine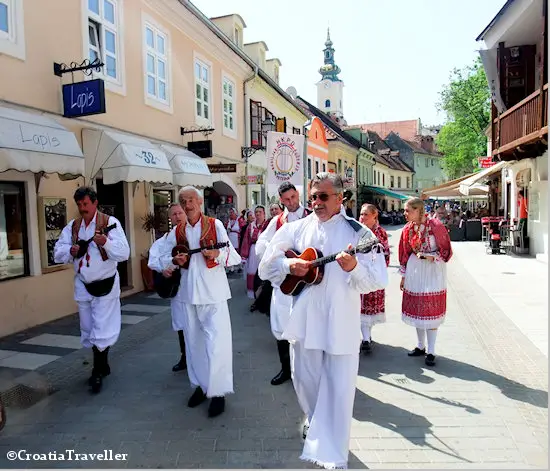 Each weekend from April to October a program of music, dance and theatre aims to bring Old Zagreb back to life. Look for street musicians, kumica women in traditional dress, the changing of the guard in Banski dvori, and band concerts in Zrinjevac park. More on the Zagreb time machine.

Catch a live music show at Tvornica Kulture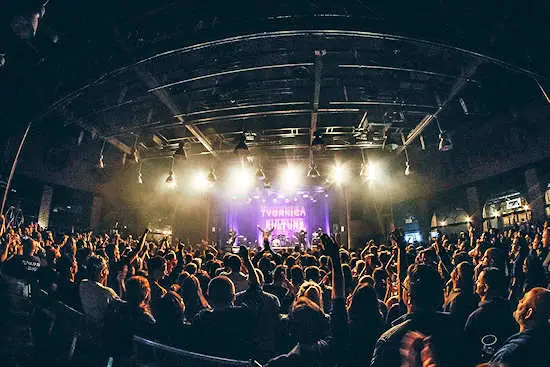 In the heart of hipster Zagreb, Tvornica kulture (Culture Factory) is Zagreb's oldest and most important venue for alternative rock, indie pop and world. From Buena Vista Social Club to Nick Cave, Macy Gray and Gotan Project, international headliners alternate with local acts for a fascinating and eclectic musical program. More on Zagreb nightlife.

Picnic in Maksimir Park


East of the centre lies peaceful Maksimir park, the oldest public park in southeastern Europe. Opened in 1794, it is landscaped English-style with oak forests, meadows, lawns and artificial lakes. Amidst the greenery are some stunning 19th-century buildings: the Echo Pavilion, Bishop Haulik's New Villa, the Gatekeeper's Cabin, the Gazebo (or Belvedere Pavilion), the Swiss House, the Obelisk. There's also the Zagreb Zoo. And every Saturday from late May to September you can rent a picnic basket full of goodies from a spot near the zoo. See more at the ZagrebPiknik facebook page.

Visit the Museum of Modern and Contemporary Art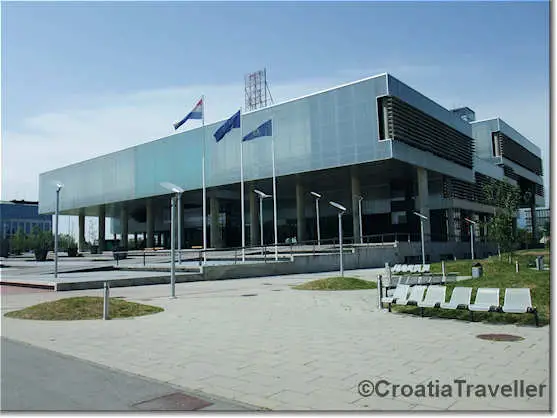 Croatia's flagship art museum is south of the Sava river but easily reachable by tram. The new (2009) building has a permanent collection of some 12,000 works by Croatian and international artists. For those confused by contemporary art trends, helpful panels place the artist within the major artistic movements of the 20th and 21st centuries. Don't miss the installation called "Women's House" by Sanja Ivekovic which documents the stories of abused women. There are also special exhibits and programs. More on the website.
Watch the sunset from Belvedere Rooftop Lateral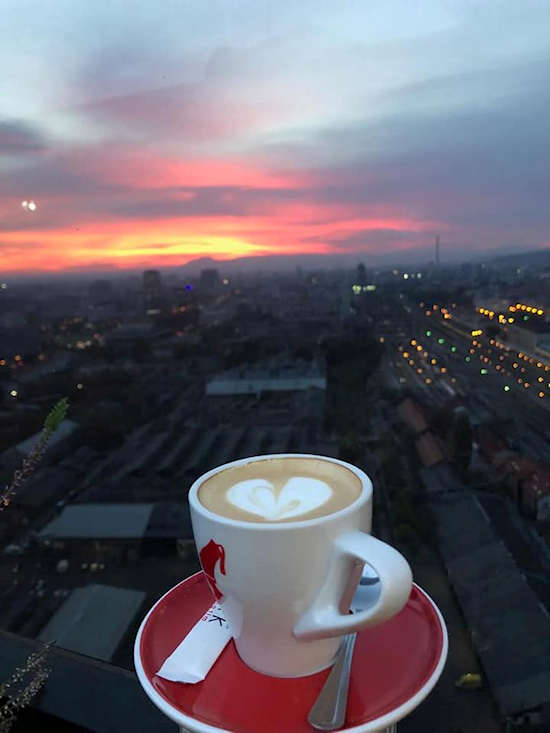 This new rooftop garden bar is perched on top of Croatia's tallest skyscraper. On Strojarska street near Zagreb's bus station, the VMD skyscraper reaches 26 floors, over 96m, into the sky. Whether mixing cocktails or decorating coffee the baristas are adroit and of course the views are to die for. More on the Rooftop Lateral's Facebook page.
Join the fun at a local festival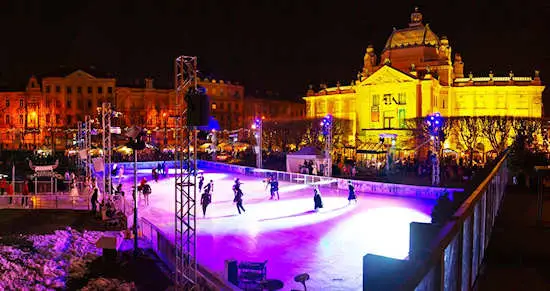 With a dynamic creative community and a plethora of open spaces, Zagreb is an ideal city for festivals. From the award-winning Advent in Zagreb to Summer Evenings in Gric, there's hardly a time of year that is bereft of festivals. There are festivals to celebrate folklore, street theatre, flowers, film, classical music, rock, dance, skiing, puppets and just about any other activity you can think of. Check out a full calendar of Zagreb's festivals and events.

Relax on Lake Jarun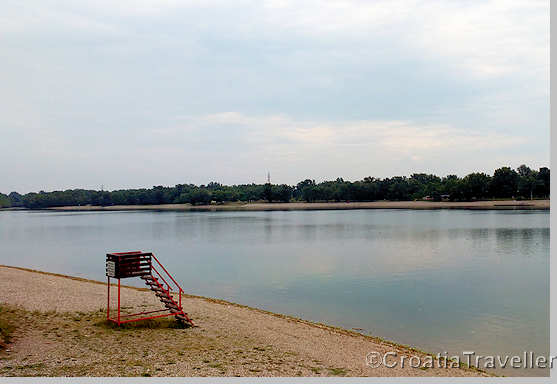 Many of Zagreb's favorite festivals take place on this artificial lake and recreational zone in southwestern Zagreb. There are walking and cycling paths, lakeside cafes and, yes, pebble beaches. At night the area comes alive with music bars and dance clubs. Lake Jarun is easy to reach by tram but it's best to have wheels to navigate the park. Ronin Sport will deliver a bike right to the edge of the park.
Take a day trip to Plitvice Lakes National Park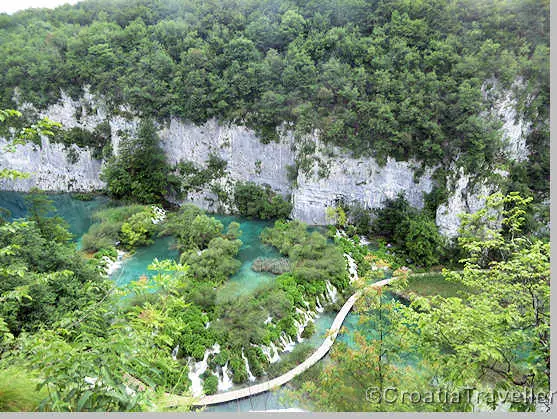 There are a lot of day trips from Zagreb but the best one is to Plitvice Lakes National Park, a Unesco world heritage site. The 16 azure lakes are linked by innumerable tumbling waterfalls to create a unique and unforgettable landscape. The lakes lie about 2 1/2 hours from Zagreb and there are frequent buses in both directions. Or, you can take a tour. More about Plitvice Lakes.