Labin is one of Istria's most interesting hilltop towns and easy to reach. As the map below indicates, Labin is an easy day trip from Pula and can also be a great lunch stop on a road trip from Zagreb to Istria or from Istria to Dalmatia.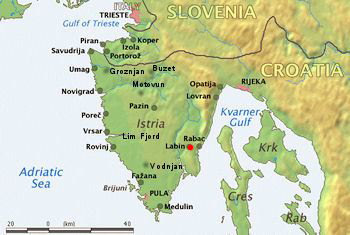 In fact, Labin is divided into two parts: the old town which is a network of winding cobblestone streets on a hilltop overlooking the Kvarner coast and a new town which contains most shops and services at the bottom of the hill. There's no beach in Labin but it's only a short distance from Rabac, a busy tourist resort, 5km to the south.
What to See in Labin
A gritty coal-mining industry seems incongruous with Labin's quaintly restored pastel houses. Yet, mining was pursued with such fervour that the hilltop town began to collapse some 40 years ago. Fully repaired, the town now honours its mining past in the Town Museum, which contains a model of the former working coal mine. In the tunnels, you'll find coal mining paraphernalia that transports you back to the booming mining era. Spend a few minutes in the claustrophobic tunnels and you'll find myriad reasons not to be a coal miner.
The rest of the town is a fascinating locale to explore, displaying a mixture of Gothic, Renaissance, and Baroque architecture in a number of Venetian palaces and churches. Climb up the winding narrow streets to the fortress, Fortica, on top of the town for a panoramic view of rocky Cres Island and the resort of Rabac, (three miles or five kilometres) below.
Accommodation in Labin
There are no hotels in either the new or old town of Labin but there are plenty of rooms, apartments and guesthouses. Most are in the new part of Labin which makes it easier to park. From "new Labin", it's a fairly easy walk to the beaches of Rabac. From the hilltop old town, not so much.
Getting to Labin
To see it all, rent a car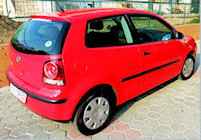 €27 for this Polo through
AutoEurope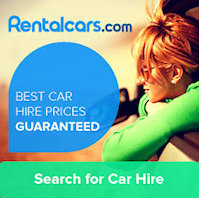 Compare rates 783 companies
Pula and Rijeka are less than an hour's drive away. The resort and beaches of Rabac are even closer. Or, you could take one of the frequent buses from either destination. See Bookaway for the schedule and online booking. More about getting around Croatia by bus.
Tourist Information in Labin
The Labin tourist office (052-852 399) is in the old town at Trg M. Tita 10.