Drvenik-Sucuraj Car Ferry
The Drvenik-Sucuraj car ferry is a convenient ferry that runs all year and connects Sucuraj on Hvar Island with the mainland. The ferry increases in frequency throughout the year, reaching peak service in the summer.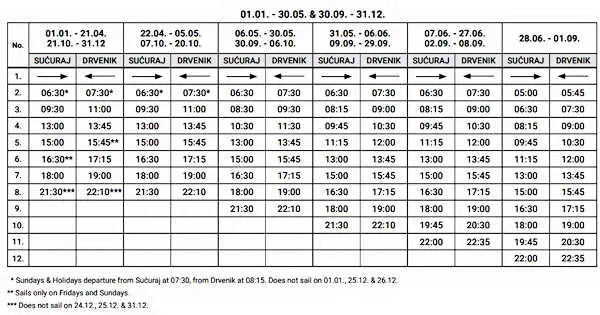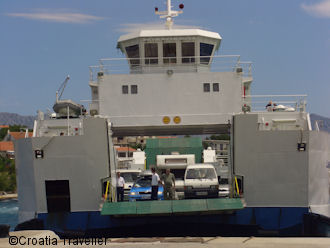 This is a good ferry to take if you're travelling down the coast from Split to Dubrovnik and aim to visit an island or two. Sucuraj is a good hour's drive across the island to get to Hvar town. Although this ferry does take foot passengers and there are buses from Sucuraj to Hvar town, there are no buses to or from Drvenik.
The duration of the trip is 35 minutes.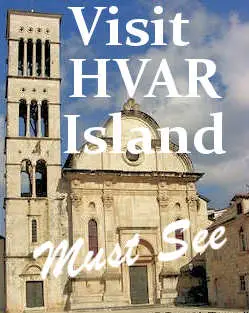 Online guide to Hvar island
Other Options
The only other car ferry to Hvar Island is the popular Split-Stari Grad route. Foot passengers have a variety of options to get directly to Hvar town from Split, Korcula or Dubrovnik.
Without a car, it may be easiest to take a tour to Hvar Island. Excursions are available from Split, Dubrovnik and Korcula.
Booking
The Drvenik-Sucuraj car ferry shuttle is run by Jadrolinija. You can buy tickets online at the Jadrolinija website, at any Jadrolinija office or go to the port at least 1/2 hour in advance, buy your ticket at a stall and put your car in the waiting line. Even if you buy in advance online, you still need to wait in the car queue.
[Click here for general information about booking ferries in Croatia.]
VISIT HVAR ISLAND ONLINE GUIDE
All Ferries to hvar
Related Pages