This fast ferry is convenient for tourists visiting Hvar or Korcula from Split.
This ferry is useful for islanders working in Split.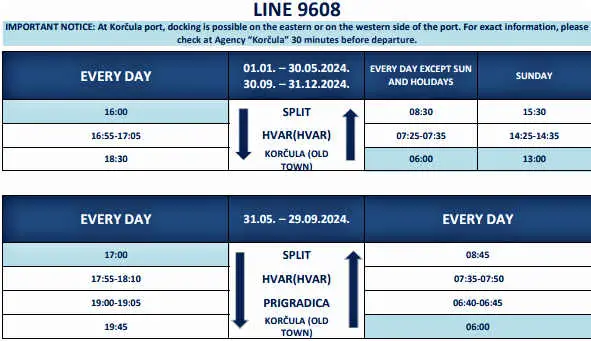 These are highly popular routes. Advance reservations are essential in the summer. Both ferries can be reserved at the krilo website.
For a ferry that leaves Split in the morning and stops at both Hvar and Korcula, see the Split-Brac-Hvar-Korcula-Mljet-Dubrovnik timetable.
Or, check out all ways to get to Hvar, get to Korcula, Split ferries or Dubrovnik ferries.
Another solution is to take a tour to Hvar Island or to Korcula Island. Excursions are available from Split, Dubrovnik and Korcula.
See below for all car ferries and catamarans to Hvar and Korcula.
.

Booking
This ferry is run by Krilo. You can buy tickets online at the Krilo website or at Krilo-authorized points of sale. See the website for further information.
Recommended Experiences
More from Croatia Traveller
My Favorite Travel Accessories
©CroatiaTraveller 2005-2021 All rights reserved