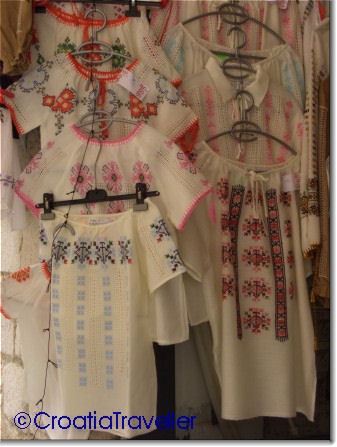 Embroidery is a
typical Croatian souvenir
No two travellers are alike! Grandma looks for a different travel experience than Junior does. Mister has different ideas than Missus. Couples and singles have different priorities. Here's how to personalize your itinerary to get the most out of your Croatia trip:
Catholic Travellers
There are several important pilgrimage sites in and around Croatia plus a selection of ancient monasteries. Read more.
Children
Taking a family holiday in Croatia is a breeze but it helps to be prepared. Read more.
Fishing
Whether fresh water or sea fishing, Croatian waters are teeming with challenges for anglers. Read more.

Gay & Lesbian Travellers
Coming from a strictly patriarchal tradition, Croatia has a lot of catching up to do but things are changing fast on the gay and lesbian scene in Croatia. Read more.
Golfers
The new Kepinski resort in Istria is the country's finest 18-hole course . Read more.
Naturists
If you want to take it ALL off in the Adriatic sun, Croatia has plenty of opportunities. Read more.
Solo Travellers
There's no stigma attached to being single in Croatia (the divorce rate is high enough) but solo travellers should plan carefully to enjoy the experience. Read my Ten Tips for Solo Travellers to Croatia.
Health Spa Holidays
Healthy water is not just along the coast! The Croatian interior is dotted with thermal baths and spa resorts to get the feeling of oh-so-wellness. Read more.
Honeymooners
Croatia is a wonderfully romantic spot to spend your honeymoon with its wealth of castles, beaches, and islands. Read more.
Skiing
No one made much of a connection between Croatia and skiing until Janica Kostelic stunned the world in the 2002 Olympics. The truth is that Croatia has always had a little ski scene. Read more.
Nightclubbing
Nightlife in Croatia is a whirlwind of music, fashion, cocktails and ambiance. Boring it's not. Read more.
Shopping
Shopping in Croatia is easy as prices are good and stores are open long hours. See more about where to shop and what to buy in Croatia.
Vineyards & Winery Tours
Croatian wines are emerging as one of the major attractions in Croatia. Istria and Dalmatia offer great wine roads and tours. Read more.
See also Adventure Travel in Croatia for more outdoorsy options.