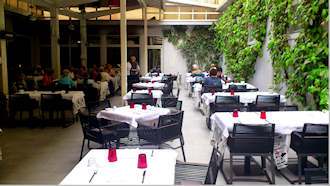 Vinodol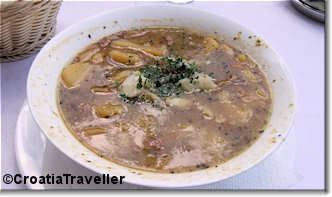 Kerempuh
Restaurants in Zagreb are improving dramatically as Croatia's capital takes its place in Europe. As in the rest of the country, Zagreb chefs take a great deal of pride in their cooking. Even the simplest dishes contain fresh ingredients, correctly prepared. Prices are extremely reasonable given the quality. Excellent thick pizza pies start at 30Kn; a simple three-course meal with a glass of wine starts at about 100Kn.
You can usually get a meal any time between noon and midnight although some of the finer establishments close for a few hours in the afternoon. Many restaurants are closed Sunday however. It may be best to head to a hotel restaurant.
All regions of Croatia are represented on the Zagreb dining scene with a particular emphasis on Zagreb and northern Croatian cuisine. There is an increasing smattering of foreign restaurants including Italian, Chinese, Indian, Japanese and Mexican. Following is a highly personal list of my favorite Zagreb restaurants:
Zinfandel's--In the Esplanade hotel, this is undoubtedly Zagreb's finest and most expensive dining experience. Dishes are modern takes on traditional classics and perfectly executed by chef Ana Grgic. The strukli is a must.
Bistro Apetit --This gastronomic restaurant was recently voted Croatia's best restaurant! The owners originally conceived of their place as catering to the "Sex and the City" crowd but no doubt everyone will find something to love here.
Dubravkin Put--As the name implies, this chef looks south towards the coast for inspiration. In a bright airy room, the fish and seafood are outstanding.
Boban--Call me the princess of pasta but I can't get enough of it, especially here. It would be hard to find a place in Italy that does pasta this well. My favorite? Squid-ink gnocchi with salmon sauce.
Kerumpuh--Overlooking Dolac market, this casual spot serves up daily specials like bakalar (cod stew) for only 50Kn served with hunky slices of country bread.
Restaurant Pizzeria O'Hara
--With a name like O'Hara, how good could the pizza be? Very good! At least according to experts at the 2014 AND 2015 Pizza Cup who named it the best pizza in Croatia. It's at Mažuranić 1B
Ivica I Marica--It's a hip place on hip Tkalciceva with good prices, a selection of veggie plates and an annex that serves up scrumptious pastries.
Korcula--for seafood and Mediterranean flavours
Pod Grickim Topom --On mild days, dine outdoors on the terrace overlooking the Lower Town. The cosy interior is perfectly welcoming on a cold day.
Vinodol--A place of casual elegance, dine on hearty Zagreb specialties either inside or on the shady terrace.
Cušpajz --is a lovely casual spot near the main square that specializes in soup and homemade bread.
Mimice--Just off Trg Jelacica, this place is crowded for lunch as everyone pours in for the unbelievably cheap fried fish and seafood.
Vegetarian Restaurants
Vegetarians have a tough time in meaty Zagreb, let alone vegans but slowly, slowly the idea is gaining ground in Zagreb. Most regular restaurants have a vegetarian option or will prepare a plate on request.
Nishta--Vegetarian, vegan and gluten-free diets are well-catered for here. The Indian-Middle Eastern accents make for a change that even carnivores will appreciate.
Vegehop--Tofu, pumpkin, seitan, chickpeas and an array of international vegetarian dishes such as moussaka and lasagna make for a wide choice of delicious, nutritious and cruelty-free meals. The restaurant closes at 9pm on weekdays and 8pm Saturdays.
Zrno Bio Bistro --Croatia's one and only totally vegan restaurant is organic, seasonal and totally tasty. No late dinners, though; it closes at 9.30pm.
Restaurant Reviews
Last updated March 27, 2018
Recommended Tours
More from Croatia Traveller
Questions? Comments?
©CroatiaTraveller 2005-2018 All rights reserved