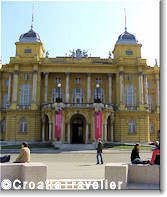 Zagreb's National Theatre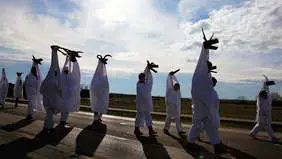 Zagreb Puppet Festival

Here's a selection of
Zagreb
's best festivals and events. For the complete Zagreb calendar, see this website:
Zagreb Convention Bureau
January
Snow Queen Trophy
At the beginning of January Zagreb's ski resort at Sljeme mountain holds the FIS men's and ladies' WC slalom race.
February
International Documentary Film Festival
Functioning primarily as a showcase and marketing opportunity for documentaries made by regional filmmakers, this festival also attracts a smattering of international contributions. (late February or early March)
March
Zagreb Auto Show
This is a massive event held in even-numbered years at the Zagreb Fairgrounds.
April
Biennial of Contemporary Music
This prestigious event is held in odd-numbered years. Venues include the Lisinski concert hall and various museums.
St Mark Festival
From late-April to mid-May, Zagreb's St Mark's church hosts a series of concerts featuring local and international soloists and chamber orchestras.
May
Floraart: Zagreb Flower Show
A festival of flowery matters including flower arrangements and the latest in gardening equipment held on the shores of Lake Bundek.
Dance Week Festival
From classical to avant-garde, this festival surveys the world of dance.
June
Fantastic Zagreb Film Festival
Get ready to be amazed, horrified or puzzled by this new festival that amasses science fiction, fantasy, horror, thriller, suspense and experimental films, screening them in a giant open-air cinema. If you need to run out screaming it could be a long run.
INmusic Festival
This is the music festival that always makes one of the "Best of" lists. The Black Keys, Arctic Monkeys, Iggy and the Stooges are only some of the headlining acts that grace the shores of Lake Jarun.
July
International Folklore Festival
It's not only Croatia's folk music and dance on display, but troupes around the world strut their stuff.
Zagreb Summer Evenings
Classical soloists and ensembles give concerts in museums around town.
August
International Puppet Festival
This celebration of the art of puppetry is a big hit with kids of course.
September
Zagreb Theatre Festival
From the Greek classics to contemporary angst, local and European companies stage it all in a number of venues around town.
World Literature Festival
For about a week in September, luminaries from world literature give readings and participate in seminars in venus around town. More.
October
Zagreb Film Festival
Catch up with the latest art flicks from Croatia and elsewhere. Blockbusters are not part of this festival's fare but you just might catch the latest indie sensation. Films are in the original language with subtitles and many are in English.
Questions? Comments?
©CroatiaTraveller 2005-2017 All rights reserved