From central and southern Italy, there are year-round car ferries from Split to Ancona plus seasonal car ferries from Ancona to Zadar and Bari to Dubrovnik.
In July and August there are passenger ferries from Pesaro and Cesenatico to Rovinj, Mali Losinj, Pula, Rab and Novalja. See the schedule and book here.
From Venice to Croatia the catamarans begin with a connection to Rovinj and Porec on 29 April and end the 4 October. For some routes, the season is even shorter. Pula begins on 19 June and ends early September. Umag begins on 25 June and ends in late August.
Operated by Venezia Lines, the height of the season is July and August where you will find the most frequent ferries and the highest prices. Note that the schedules are arranged to make day trips from Croatia to Venice, not vice-versa. No matter when you go, I strongly advise that you buy your tickets online in advance.
Prices
Prices range from €59 to €82 depending on the port, the day of the week and the season. Click here for prices and booking.
Atlas-Kompas
Atlas-Kompas also runs round-trip excursions from the same Istrian ports to Venice during the summer season. Click here for schedules, prices and online booking.
Map of Istrian Ports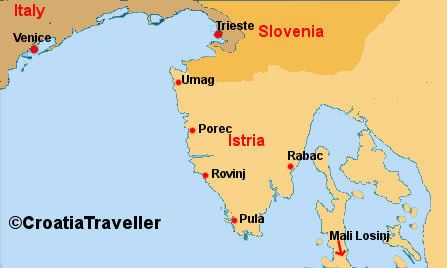 See a map of all Croatia ferry routes.
If the ferry schedules are not convenient, consider taking one of the daily buses from Italy to Istria.
Find Car Rentals
Other Ports in Italy

Ancona
car ferries from Ancona to Split
car ferries from Ancona to Zadar
Bari
This route is seasonal only. Get the schedules for:
car ferries from Bari to Dubrovnik
Last updated: August 6, 2021
Recommended Experiences
More from Croatia Traveller
My Favorite Travel Accessories
©CroatiaTraveller 2005-2021 All rights reserved