There's no question that Dubrovnik is being loved to death. Word is out that the walled city is an extraordinary sight that must head everyone's bucket list. From all corners of the world, travellers of all stripes are pouring into an old town that only covers 34 acres. As a million visitors stream into Dubrovnik each year, the besieged city is trying to work out ways to manage the love. The primary problem is cruisers which arrive with thousands of visitors at once, clogging the streets and making it difficult to even enter the old town much less appreciate the sights.
Visitor limits are being cautiously tested. Currently, the stated limit is 8000 visitors after which the gates are supposed to be closed until the congestion eases. Post-pandemic, cruise ships are far less frequent than before although traffic for 2022 is expected to be high.
Meanwhile, it is possible to avoid the crowds and have a better overall experience of Dubrovnik with both careful planning and flexibility.
Here are six tips to avoiding the crowds in Dubrovnik:
1. plan around the Cruise Ship arrivals

The cruise season lasts from May to October. If you must come during this period, then it's essential to organise your visit to the Old Town around cruise ship arrivals. One or two thousand cruise ship passengers visiting the Old Town is manageable. More than 5000 is unpleasant and at 9000 visitors the streets are elbow-to-elbow with tourists. Avoid if at all possible.
As a general rule, note that mornings are far busier than late afternoons. The flood of visitors begins washing into the old town around 9am and by around 4pm most have returned to their ships. Arranging your visit before 9am or after 4pm means you'll have a much better experience. Since the biggest cruisers dock in Gruz port, the road to and from Gruz port can be bumper to bumper from 8am to 10am and from 3pm to 4pm. Conditions vary daily however; it's best to check your dates and times carefully. The municipality has a helpful website that you can check to determine expected visitor crowds any day of the year.
2. Visit Other Attractions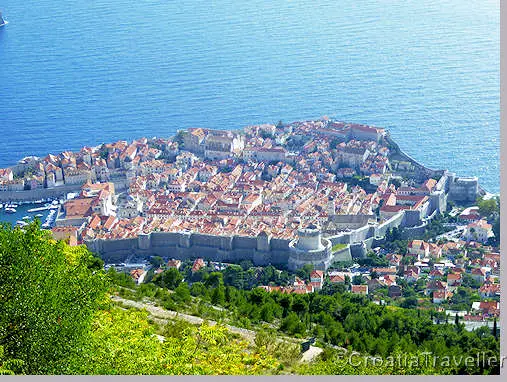 View from Srd Hill
Old town too busy? There are plenty of options! Here are some alternative things to do:
take a cable car to Srd Hill and enjoy the incredible view from above
visit Fort Lovrijenac, part of Dubrovnik's defensive walls
take a boat from Gruz to the tranquil Elaphiti islands
take a boat to Lokrum island either from Gruz or the Old Town port
go where locals go to avoid tourists: off-the-beaten-path
3. Avoid Pile Gate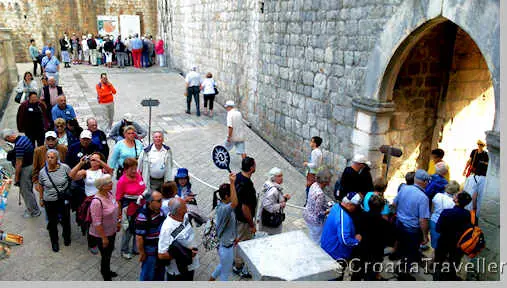 Pile Gate in October
Pile Gate is where the bottlenecks occur. There are three entrances to the Old Town: Pile Gate, Ploce Gate and Buza Gate. Of the three, Pile Gate in the west is by far the busiest. After cruisers dock in Gruz, passengers are brought directly to Pile Gate. Ploce Gate is in the east and is much less busy. The cruisers that dock in the east at the old port are smaller; their tenders usually drop passengers off directly at the old port.

Ploce Gate: less busy
Buza gate is north of the city and is the least busy gate. Bus line 8 from Pile Gate takes you to Kresimira 1 to enter through Buza, or stay on to Kresimira 3 to enter through Ploce.
Dubrovnik Gates
4. stay Overnight in the Old Town or Ploce

Early mornings are absolutely the best time to have Dubrovnik nearly to yourself. In the hours shortly after sunrise, the nightclubbers have staggered home and the daytrippers have yet to arrive. It is then that pigeons swoop over Stradun (above) and the marble streets gleam in the soft light. Stay in the old town and it's only steps to a morning coffee in an outdoor cafe. From the Ploce neighbourhood, it's a short, pleasant walk through Ploce gate, glowing in the morning sun.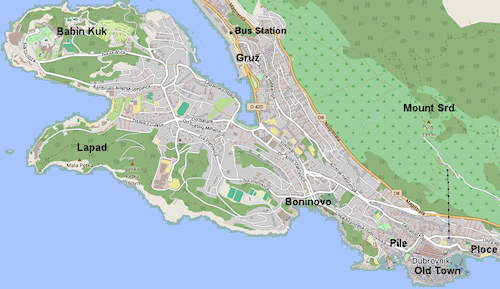 5. Visit Off-Season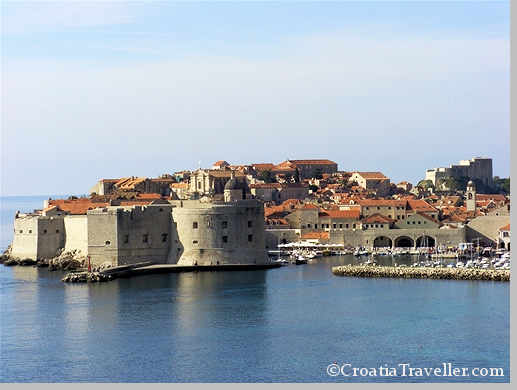 This photo was taken in November!
May to October is the main season with the height in July and August. To really appreciate authentic Dubrovnik culture, visit between November and April. At either end of the off-season weather is likely to be warm and sunny, maybe even mild enough for a day at the beach. December through March is when locals take back their town. Foreign tourists are few and festivals are many. Christmas through New Year's is a delightfully festive season with the old streets lit and decorated around a traditional Christmas market. Early February is St Blaise Day when Dubrovnik's patron saint is celebrated with several days of festivities. Easter is also a great time to visit. Throughout the off-season, the Dubrovnik Symphony Orchestra gives regular concerts, often with visiting artists.
[See more on when to go to Dubrovnik]
6. Buy a Skip-the-Line Ticket
Walking Dubrovnik's majestic walls is an unmissable highlight but you'll certainly want to miss waiting in a long line to buy tickets. Booking a skip-the-line ticket gets you right in, leaving more time and energy to enjoy the experience.