Purgeraj Club, Zagreb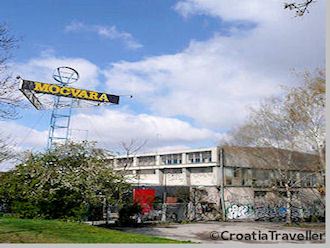 Mocvara
Bars, cafes, clubs, discos, pubs, live music; determined nightcrawlers need never be bored by Zagreb nightlife. You have the Upper Town with the sinuous, bar-lined Tkalciceva street and the Lower Town with Bogoviceva and Trg Preradovica plus the Branimir Centre across from the train station. Then you have Out-of-Town down by Jarun Lake and south of the Sava river (where a car is most convenient).
[For more venues, check out Hipster Zagreb]
For the most part, the vibe is pretty relaxed in Zagreb clubs. Menacing bouncers, ruthlessly selective door policies and watery cocktails have not yet made inroads onto the scene. There are a few clubs where you're expected to show up in movie-star fashion but they are a definite exception. The cover runs from about 30 to 50KN. Drinks are about the same.
The nightlife season is Zagreb runs from September to June. In the summer locals head to the coast, especially to Novalja on Pag Island.
There are way too many places to list everything but here are some of the essential stops:
Bars
Alcatraz
In the Lower Town on Preradoviceva 12, this American-themed party bar is know for its crowds of happy locals chugging down exotic beer and local spirits.
Zabac
Down by Jarun Lake at Jarunska 5, this is raw and boisterous and cheap. Calling all students.
Hemingway Lounge Bar
Across from the National Theater at Trg maršala Tita 1, this sophisticated but relatively pricey bar specializes in fruity cocktails under chandeliers. Salads and sandwiches are also on offer.
Maraschino Bar
Just a hop from Trg Jelacica at Margaretska 1, this colorful bar is not just for lovers of Maraschino liqueur but for anyone who appreciates highly original decor and a jovial crowd.
Cafe Flores
Coffee, drinks, desserts and snacks are served up here at Petrića 1 in a relaxed modern ambience with mellow music and an entirely smoke-free environment.
Pubs
Old Pharmacy Pub
At Hebranga 11a, this old stalwart is the place to go for a brew in a proper pub atmosphere. Catch up with the news on CNN or Sky or peruse the English-langage newspapers.
Bulldog
On Bogoviceva, this hugely popular watering hole is teeming, especially on summer nights when the crowds fill up the streets.
Oliver Twist
At Tkalciceva 60, this pub is as woody and shadowy as a pub should be plus the beer is great.
Cat Caffe
Enjoy a "cat cocktail" (like a mojito) or craft beer while petting an array of rescued cats at this new hangout. It's at Kuslanova 6.
Kino Klub Gric
Near the main square at Jurišićeva 6 this comfy cafe-bar on a movie theme spans two levels. It's a good place to sample Croatian rakijas with (or instead of) your coffee. There's a DJ on weekends.
Limb Caffe Bar
Near Kset (below), is also a hip, underground artsy venue with a slightly older crowd. Facebook page: www.facebook.com/limb.caffebar/
[For more suggestions, see Hipster Zagreb]
Live Music
VIP Club
This jazz club is in the center of the Lower Town on Trg Jelacica right underneath Gradska Kavana, one of Zagreb's most popular and chic-est cafes. Facebook page: www.facebook.com/vipclubzagreb/
Sax
Also in the Lower Town at Palmotićeva 22 you can hear everything from rock to pop to jazz.
Kset
From live shows to the city's most popular DJs, here on Unska 3 is where you can check out the hippest of the hip.
Klub Mocvara
It's an alternative music/art scene here at Trnjanska near the Sava river and a real showcase for Zagreb's latest bands and DJs.
Purgeraj
Very eclectic programming (jazz, blues, rock, etc) and a mellow vibe are the ingredients to this popular place in Ribnjak park. Facebook page: www.facebook.com/pages/KLUB-PURGERAJ/322820164765
Dance Clubs
Saloon
If you have to choose one dance club, this should be it. The music is eclectic, that is, not strictly techno and you don't have to be under 20 to enjoy it. It's Zagreb's oldest disco.
Aquarius
Near Zagreb's delightful Jarun Lake, Aquarius is big, splashy and fun with the best DJs and merriest crowd.
Gallery Club
Very Buddha-bar and also on Jarun Lake, Gallery Club has hosted famous DJs such as David Guetta and David Morales. Dress up.
Recommended Tours
More from Croatia Traveller
Questions? Comments?
©CroatiaTraveller 2005-2018 All rights reserved