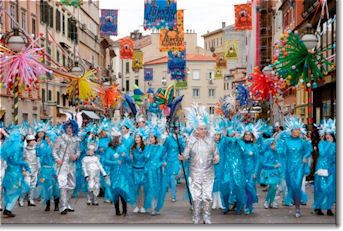 Rijeka Carnival
Check out:
It's still cold in Croatia in February with skiing near Zagreb and the chance for snowy walks through Croatia's National Parks. On most of Croatia's coast and islands you'll have a less-than-50% chance of rain and the temperature stays well above freezing most of the month. (See Croatia temperature and precipitation charts)
Average February Temperatures (Celsius)

Destination
Daytime
Nightime
Zagreb
+4
-3
Dubrovnik
+12
+6
Split
+12
+6
Zadar
+10
+5
Rijeka
+9
+4
Porec
+8
+3
Pula
+10
+4
In the smaller coastal towns and islands, many hotels may be closed but there's always something open and prices will be at their lowest. In bigger cities, prices will be about the same and everything will be open. All bets are off though if you come during one of the two major events in February.
FESTIVALS
Carnival
Celebrations were banned in former Yugoslavia but now Catholic Croatia makes a very big deal out of Lent and Carnival. Generally falling around the third week of February, Carnival is celebrated enthusiastically with wild costumes, parades, floats and plenty of partying. It's generally agreed that the Carnival (Karneval) of Rijeka is the best. A close second is the Carnival of Samobor but Zadar and Dubrovnik also put on quite a show. Don't just waltz into town expecting a hotel room though; make sure to reserve in advance.
Another great event is the Feast of St Blaise in Dubrovnik on February 3, replete with dancing in the streets, concerts, food, processions and costumes. More.
Further Resources
Related Pages