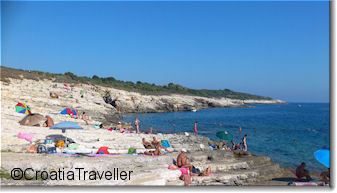 Kamenjak beach, Pula
Check out:
The tourist season is in full swing in July. Marinas are full of pleasure boats, beaches are crowded with sunbathers, ferries are full, hotels hang out the "no vacancy" sign and tourist offices work from dawn to nightfall dispensing information and solving problems. There are no shortage of daytime trips, activities and excursions plus a range of music and cultural festivals that attract locals and visitors. The most important ones are listed below but nearly all coastal and island towns have music in the evening.
Average July Temperatures (Celsius)

Month
Daytime
Nighttime
Zagreb
+27
+16
Dubrovnik
+29
+21
Split
+31
+23
Zadar
+28
+18
Opatija
+27
+20
Porec
+26
+20
Pula
+26
+20
FESTIVALS
Besides Croatia's rich dance and musical traditions, there are troupes from all around the region, from Europe and even continents beyond.
Dubrovnik has a long, respected tradition of producing classical musicians and many perform at this month-long festival along with prestigious national musicians.
In the stunning setting of the Roman amphitheatre, look for a summer program of major national and international stars.
There's an emphasis on traditional Croatian music but there are some surprising appearances by Middle Eastern or African musicians.
Fun and casual and with a program that gets better each year, this festival is a good excuse to visit Motovun.
The emphasis is on classical music and large, spectacular opera productions.
Musical Evenings in St Donat
The ninth-century St Donat church is known for its acoustics. It's a wonderful environment for a mostly chamber-music festival. More information.
Pag Carnival
In the last days of July, Pag celebrates the local legend of a Pag slave girl by dressing up in traditional costumes, cooking traditional dishes, and dancing to old island tunes. More information.
Recommended Tours
More from Croatia Traveller
Questions? Comments?
©CroatiaTraveller 2005-2018 All rights reserved