Enter winter in Croatia. The temperature is spiraling down, winds are whipping along the coast and precipitation of one sort or another chases everyone back indoors.
Average December Temperatures (Celsius)

Zagreb
+5
-1
Dubrovnik
+12
+6
Split
+11
+7
Zadar
+12
+5
Rijeka
+10
+4
Porec
+10
+4
Pula
+11
+5
December 25 (Christmas) and December 26 are bank holidays in Croatia. The big Christmas dinner is eaten on Christmas eve and usually consists of fish followed by a trip to the church for midnight mass. On Christmas day begins the laborious process of opening the Christmas presents under the tree, trying on the clothes, getting the gadgets and toys to work etc.
FESTIVALS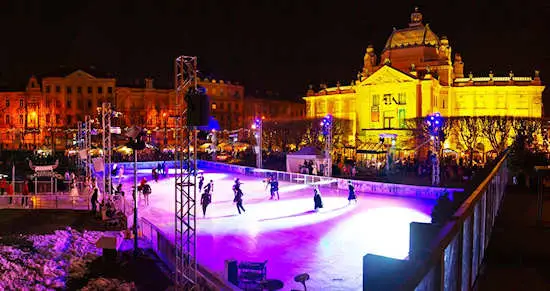 courtesy Zagreb Tourist Board
Advent (the fourth Sunday before Christmas) launches the Christmas season. For all practical purposes, the entire month of December is devoted to Christmas markets, festive decorations and seasonal celebrations. On St Nicholas Day (December 6) kids leave out stockings that are filled with presents (if they're good), including a silvery twig that symbolizes the beating they will receive should they be bad!
Croatia's towns try to outdo each other in decking out their town centers. As the country's capital, Zagreb is the place to fully experience the holiday spirit. The Advent in Zagreb program has been voted the best in Europe for three consecutive years. The Christmas market in Jelacic Square is a wonderland of lights, music, food stalls and entertainment. Just in front of the train station, Tomislav Square is transformed into a glorious ice park centered around a skating rink. The stately plane trees on Zrinjevac square are festooned with blazing lights that illuminate the food, beverage and handicraft stalls underneath.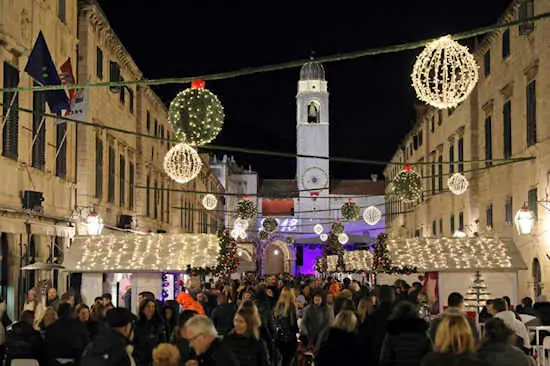 courtesy Dubrovnik Tourist Board
Dubrovnik also honors the seasonal spirit by decking out the town center in lights and pine trees. There are few foreign tourists and locals revel in finally having the town to themselves. The Dubrovnik Winter Festival includes a Christmas market and a full program of classical and pop concerts. It all culminates on New Year's Eve when everyone heads to Stradun.