Click for today's best hotel deals.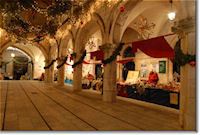 Christmas Fair in Dubrovnik
Check out:
Enter winter in Croatia. The temperature is spiraling down, winds are whipping along the coast and precipitation of one sort or another chases everyone back indoors.
Average December Temperatures (Celsius)

Zagreb
+5
-1
Dubrovnik
+12
+6
Split
+11
+7
Zadar
+12
+5
Rijeka
+10
+4
Porec
+10
+4
Pula
+11
+5
December 25 (Christmas) and December 26 are bank holidays in Croatia. The big Christmas dinner is eaten on Christmas eve and usually consists of fish followed by a trip to the church for midnight mass. On Christmas day begins the laborious process of opening the Christmas presents under the tree, trying on the clothes, getting the gadgets and toys to work etc.
FESTIVALS
St Nicholas Day on December 6 begins the Christmas season. Kids leave out stockings that are filled with presents (if they're good), including a silvery twig that symbolizes the beating they will receive should they be bad!
Questions? Comments?
©CroatiaTraveller 2005-2017 All rights reserved