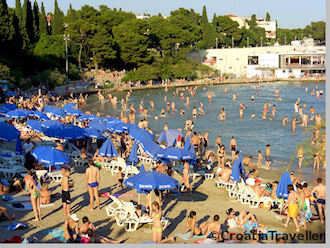 Popular Bacvice Beach, Split

Come to Croatia in summer and you'll enter into the whirlwind of the tourist season. The season reaches its peak the last three weeks of July and the first three weeks of August. Hotel prices are at their highest point then and vacancies are at the lowest level no matter where you go. If you can manage to go in June however, you'll find Croatia sunny, warm and busy enough but not yet in mad-summer mode.
Summer can be exciting because there's a lot going on. Nightlife along the coast is at its most frenzied whether you're a clubber or a concert-goer. Music festivals animate the streets of Dubrovnik and other coastal towns in July and August. Only Zagreb slumbers. Everyone has headed to the coast!
Summer is the sunniest and driest season along the coast which means you're unlikely to be stymied by a rainy day. You're main concern will be avoiding a major sunburn.
The crush of tourists can make a summertime visit to one of Croatia's more popular places less than pleasant. Croatia is no longer an undiscovered destination. The narrow streets of Dubrovnik or Hvar Town can be elbow-to-elbow with visitors licking ice cream cones and snapping pictures. Taking a car onto a ferry means reserving in advance and then waiting in line for hours. For a more authentic and relaxing experience consider staying in one of the lesser-known destinations. Consider Cres Island, Vis Island, Lastovo Island, Orebic or Ston on the Peljesac peninsula.