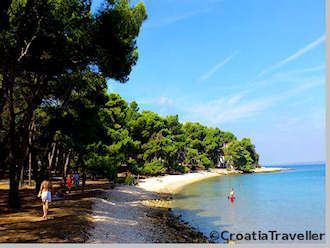 Brijuni Islands in September

Kolocep Harbour in November
September and October are beautiful months to visit Croatia. The tourist crush has lightened somewhat (although September can still be busy), the weather is mild rather than scorchingly hot and the sea is still warm enough for swimming--at least through mid-October. See temperature and precipitation charts for Croatia's key locations.
Hotels are open, excursions are running and local ferries are on the summer schedule (i.e. more frequent) until the end of September.
Travelling to Croatia in autumn is also easy on the budget as hotel prices start their six-month decline in September. Car ferries are also a little cheaper starting in October. You'll have more flexibility in arranging accommodation and car rental as you'll have less competition for rooms and vehicles.
By mid-November shortening daylight hours can limit sightseeing somewhat and many hotels start their winter hibernation. The cooler temperatures mean that beaches, swimming and sunbathing will probably not be your first priorities.
Where to Go in Autumn
Early autumn destinations include every place you would want to visit in the summer--the islands, the Istrian and Dalmatian coasts, Dubrovnik-- plus Croatia's great cities: Zagreb, Split and Zadar, now with temperatures moderate enough to make sightseeing a pleasure.
Good late autumn destinations in Croatia include the interior of Istria, the national parks and cities such as Zagreb, Split and Dubrovnik that offer a vibrant cultural life where you can always duck into a museum if the weather turns nasty. Bear in mind that ferry companies change schedules at the beginning of October leaving far fewer boats out to the islands.
Best Autumn Festivals and Events
September
Split Film Festival
Varazdin Baroque Evenings
Zagreb Theatre Festival
Istria Truffle Days (through November)
Unknown Festival Rovinj
See more details on September festivals and events.
October
Zagreb Film Festival
Biograd Nautical Show
Olive Days in Punat
Chestnut Festival in Lovran
Restaurant Week in Zagreb
See more details on festivals and events in October.