Dubrovnik is Croatia's most expensive destination and prices have been rising steadily in recent years. From accommodation to meals and sightseeing, it's easy to wonder where the money went after a few days. But there are some tips and tricks I've gathered over the years to keep costs down. Here are seven foolproof ways to save money in Dubrovnik.
Save Money on Accommodation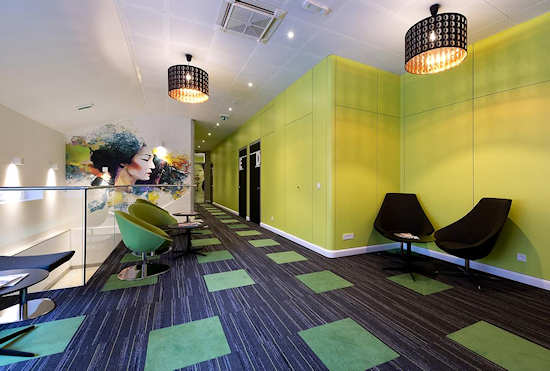 Hostel 365 for U
The best way to save on accommodation is to travel off-season. But you probably knew that. Prices start to drop in September and don't start to climb again until May. You'll save a fortune on accommodation if you can avoid July and August.
The next best way to save is to stay in private accommodation. Even in the summer, it's possible to find a one-bedroom appartment for as little as €70 a night. In your own apartment, you have the option of preparing your own feasts which will save you money on meals. Plus you'll be living like a local! Staying in a hostel is even cheaper but try to choose one with a kitchenette.
Save Money on Day Trips

Lopud island
Try to avoid special tourist boats and instead choose destinations with regular bus or ferry connections that locals use. For example, a trip to Lokrum island costs €20 return on a tourist boat while a trip to beautiful Lopud costs €6 return on the regular Jadrolinija ferry. A boat trip to Cavtat costs €15 return but taking a local bus costs only €7. Other great day trips accessible by public transport include Mljet island, Montenegro and Trsteno.
Save Money with the Dubrovnik Card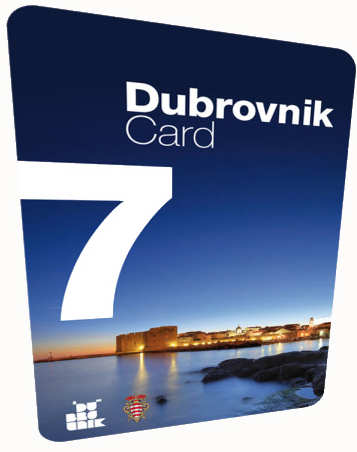 Sights and museums in Dubrovnik can be expensive. For example, admission to the City Walls now costs €27. With a Dubrovnik Card, admission to the City Walls is included plus admission to essential sights such as the Rector's Palace and Franciscan Monastery which would cost €10.50 and €4 respectively. Public transport is included in the Dubrovnik card and there are discounts up to 30% in a variety of shops, restaurants and excursions. A day card is €30 if purchased online. There are three and seven-day cards available as well but think carefully about what you intend to do. A full list is available on the Dubrovnik Card website.
Save money on Transport
There's no reason to shell out for taxis; Dubrovnik's local buses are fast, cheap and convenient. They start running at 5am and don't finish until midnight. Individual tickets are only €1.50 and there's a daily pass for €4. You can even update your social media postings on the bus's new WiFi network!
Save Money on Airport Transfers
Taking a taxi from Dubrovnik Airport costs around €36; and Uber costs €28. Taking a bus is a mere €6. The bus stops at Pile Gate, the entry to the Old Town, Gruz port and the bus station. If you're staying in Lapad, Babin Kuk or Ploce you can catch a bus or taxi from Pile which will still be cheaper than taking a taxi the whole way.
[More on ground transport from Dubrovnik Airport]
Save Money on Food and Drinks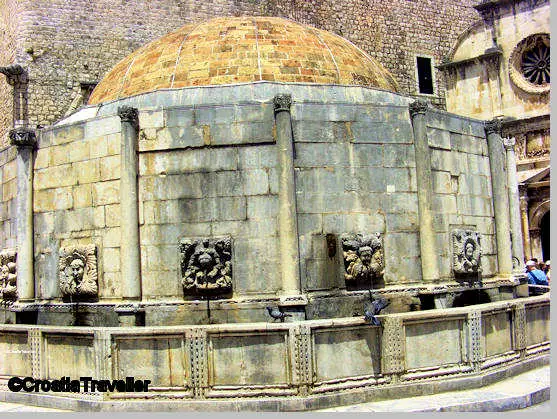 Onofrio Fountain
The priciest place to eat or drink is on Stradun. The same little coffee that sets you back €3.50 on Dubrovnik's main street is nearly half-price out of the old town. The good news is that Onofrio fountain is also on Stradun with as much free water as you can drink. With clean and high-quality drinking water there for the guzzling, there's no reason to pay for bottled water.
Food is also more expensive in and around Stradun. Though there are a few places with prices reasonable enough to attract locals--Rozario, Tabasco, Kamenice (Gundulićeva poljana 8)--you'll do better eating around Gruz port. Try Glorijet (Radica 16), Bistro 49 (Ivana Pavla II 49) or Porat.
If you have a Dubrovnik card, use it. You'll get 10-30% discounts on selected restaurants.
Save Money on Free Sights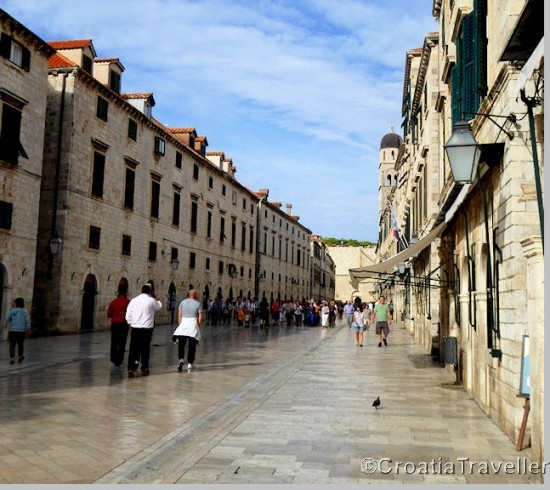 Stradun
Sometimes the best things in life really are free. In Dubrovnik, that would include a slow stroll down Stradun, stopping to admire the many remarkable outdoor monuments. While the palaces and museums have entry fees, the churches do not and they're packed with treasures. Pop into the Cathedral, the Church of St Blaise, the Orthodox Church and the Church of St Saviour.
[Follow my walking tour down Stradun]
It's not necessary to take one of the many, many Game of Thrones tours. Follow my self-guided Game of Thrones tour and it won't cost you a penny.You'll see all of the filming locations for the popular series and you'll set your own pace.
Or, get off the beaten track in Dubrovnik and visit the secret places only locals know about.
The brilliant Adriatic sun and sparkling waters are totally free! Don't forget to head to one of the great and free public beaches in Dubrovnik.
Did you like this page?
Get Croatia Traveller's Dalmatia: Split to Dubovnik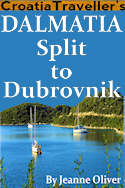 Related Pages
Free Things to Do in Croatia
Sightseeing in Dubrovnik
One Day in Dubrovnik
Off the Beaten Track in Dubrovnik
Dubrovnik
Travel Planner
Dubrovnik History